The Global Hotel Industry & Trends for 2016 [Infographic]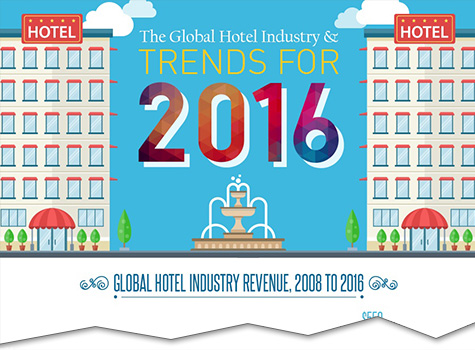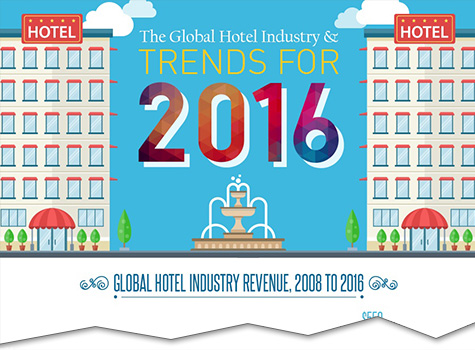 With hotel revenues expected to rise to $550 billion dollars this year, a number of trends are rising throughout the hotel industry. These trends were recently featured in an infographic created by the Killarney Hotel Group. HospitalityNet.org shared the infographic, "The Global Hotel Industry & Trends for 2016".
Top trends include increasing hotel room rates, along with Millennials making their mark as the dominant business travelers, and hotels finally connecting with mobile technology. To explore more trends affecting the global hotel industry in 2016, check out the top takeaways from the informative infographic.
[jump]
The Demand and Dollars for Rooms by Region
Year-on-year demand has increased in all global regions since 2014.
With 68% hotel occupancy rates, Europe and the Asia Pacific are the two global regions with highest hotel occupancies.
The most expensive hotel rooms are found in the Middle East and Africa, with regional room rates averaging $165.97 per day.
The Business of Business Travel in the U.S.
The infographic flagged how U.S. business travel will become more expensive in 2016 and a new generation of travelers will make up most of the market.
S. room rates are predicted to rise from 6.5% to 7.5%.
Millennials will surpass Baby Boomers as the core consumer market in 2017.
High Times for High Tech
Hotels that welcome technology in 2016 will receive the most bookings and business. And focusing on mobile technology is the key to success, particularly mobile apps that facilitate all kinds of hotel services. Mobile is extremely important to Millennials, who will make up the majority of travelers and demand personalized service from the properties they pick. This trend toward technology has piqued interest in the topic of cloud computing as a concept called "software as a service" (Saas). All of these trends were gleaned from the following findings:
One-third of travelers use their smartphones more during trips than while at home.
Millennials want personalization in their hotel experiences, especially in the mobile experience.
Saas requires less upfront investment than other systems due to no hardware costs and no need for maintenance from full-time staff.
The Power of Dynamic Rate Marketing
Dynamic rate marketing is the display of real-time hotel room rates and availability on a variety of digital marketing channels. This practice has become very common in hotel bookings and will continue to rise in 2016.
In 2016, more than 50% of hotel bookings will occur online.
The main dynamic rate marketing channels include display advertising, retargeting, meta-search, email marketing, Google AdWords, and Google Business Listings.
Boosting the budget for dynamic rate marketing can increase both conversions and ROI.

Follow what's new in hospitality marketing. Contact MDG today at 561-338-7797 or visit www.mdgsolutions.com.
MDG, a full-service advertising agency with offices in Boca Raton and New York, NY, is one of Florida's top branding firms. MDG's capabilities include print advertising, direct mail marketing, branding, logo design, creative, media buying and planning, radio and TV advertising, outdoor, newspaper, digital marketing, website design and development, online video advertising, infographic development, email marketing, video marketing, mobile marketing, content marketing, social media marketing, paid search marketing, and SEO. To learn about the latest trends in hotel advertising and branding, contact MDG today at 561-338-7797 or visit www.mdgsolutions.com.