The Healthy Way Johns Hopkins Hospital Treats Social Media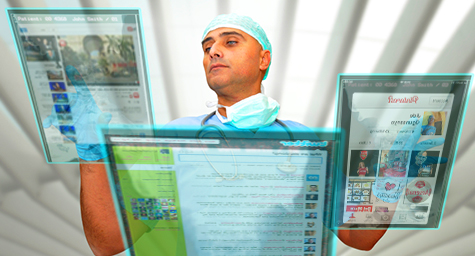 The healthcare industry is rather conservative, which has made it more difficult for healthcare marketers to get involved in the less-traditional world of social media. Fortunately, any initial hesitation is rapidly subsiding as more and more healthcare brands and organizations are seeing the way social media is being warmly embraced by patients and bringing valuable opportunities for consumer communication. One strong social advocate is Stacy Poliseo, whose role as the social media voice for Hopkins Medicine has given her incredible insight into making social media a worthwhile part of a healthcare organization. SocialMediaToday.com spoke with the social specialist to learn how she approaches social media for a healthcare leader like Johns Hopkins.
According to Ms. Poliseo, the Hopkins approach to social media marketing is to share the depth of the institution in both cutting-edge research and personal patient care. She strives to update the international professional community while reaching out to the local audience. With patients, her primary goals are to humanize the brand, join in on the conversation, and listen to the patient voice in an effort to show how Hopkins is a supportive resource they can trust.
One of her social media successes at Johns Hopkins was a campaign that promoted the new Sheikh Zayed Tower and The Charlotte R. Bloomberg Children's Center. Since these buildings were far from finished at the time of the campaign, Ms. Poliseo relied on an innovative Facebook application to create a building-centric page directly on the Johns Hopkins page. This additional page featured details, a video tour, a construction timeline, and a countdown clock to teach visitors all about the new buildings.
"This page drove over 20 percent of new Facebook likes," said Ms. Poliseo. "Patients wrote congratulation posts and we generated a lot of excitement about the buildings. It was a great example of the public integrating with Hopkins Medicine."
Ms. Poliseo may be a social marketing pro, but she admits to learning two important lessons about social media marketing at Hopkins.
The first is going beyond the mainstream social networks to seek out the smaller communities where patients are flocking and listen to what they're saying. The simple act of listening offers enormous insight into what patients really want.
The other is not to assume anything about your social media audience, but instead get to know them. It may be surprising to see how social media spans all demographics, but it's important to become familiar with each audience in order to engage with them most effectively.
"My advice would be to listen, learn and adapt," she said.
Find the remedy to your healthcare marketing issues. Contact MDG.
MDG, a full-service advertising agency with offices in Boca Raton and New York, NY, is one of Florida's top healthcare marketing companies, whose clients include Dental Care Alliance, MDVIP, Max Planck Florida Institute, Primary Pharmaceuticals, and HCA East Florida. MDG's 360° approach uses just the right mix of marketing media to reach your advertising goals, where traditional, digital, and social media marketing efforts support each other and your message is tailored to the medium. To learn more about the latest trends in healthcare marketing, contact MDG. To learn more about how leading healthcare organizations are ensuring that social media becomes a primary part of the healthcare experience, see "Mayo Clinic Center for Social Media Seeks to Improve Global Healthcare."