The History of Advertising [Infographic]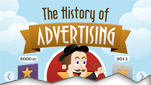 From ancient ads to online videos, advertising has experienced countless transformations in the quest to promote and persuade. Spreading the word to the world has evolved with the ages, with Egyptians carving their ads into steel, the arrival of autos bringing in billboards, and the '40s featuring the first TV spot. Ads soon hit the airwaves with contests and controversy, then swiftly took a digital direction. So much has transpired in this advertising age and it's all been displayed in this infographic from Infolinks. It paints a picture of our advertising past and shows how far communication has come.

To create infographics to increase brand awareness and create back links for optimal search engine optimization, contact MDG today at 561-338-7797 or visit www.mdgsolutions.com.
Learn more about the Value of Infographics. View MDG's other infographics:
Shifting Ground: The Changing Scope Of Advertising,  Where Is Inbound Marketing Headed?,  The ROI of Social Media, Local Search Evolved and How Social Media Changed the Ad Game.
Source: Mashable.com