The History of Consumer Purchasing [Infographic]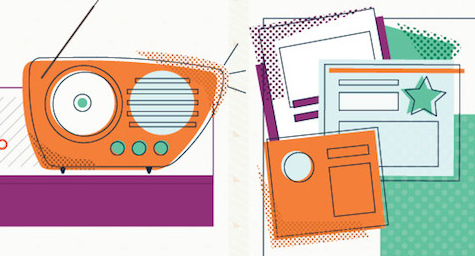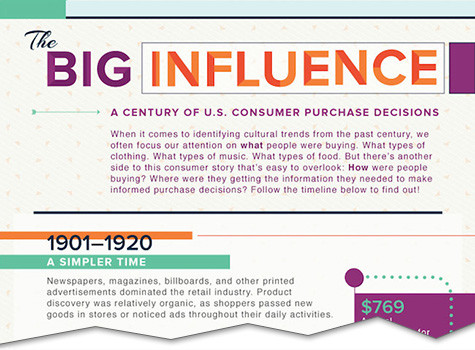 Times change, trends change, but one thing that stays the same is that people continue to buy. But while most marketers have focused on "what" people purchased over the years, it's just as important to understand the "why" behind the buy. Of course, it's cool to know which products have been hot in different eras, but what matters more are the messages, motives, and media that influenced those choices. To see how purchasing decisions have evolved over the last 100 years, check out this new infographic posted on HubSpot. It features highlights from purchasing history, such as how people learned about what's new, where they shopped, and why they spent.
[jump]
1901 to 1920
Print advertising dominated and directed retail sales
Mail-order simplified shopping, with catalogs from Sears Roebuck and Montgomery Ward giving consumers access to all kinds of products
1921 to 1935
Radio completely changed advertising, with radio shows featuring commercial breaks for brands to promote products
$1,512 was the average annual expenditure for an American family in 1934
1935 to 1950
Overall ad spending increased during World War II, from $2.1 billion in 1941 to $2.8 billion by 1945
Radio ad revenue exceeded print advertising revenue for the first time in history
1950 to 1965
The creation of television caused TV advertising to soar
The debut of The Diner's Card in 1949 allowed consumers to dine out without cash and ushered in the age of credit card spending
1965 to 1975
Spending soared due to the mid-1960s boom in economic prosperity, disposable income, and leisure time
Ads had to meet higher standards of integrity due to America's skepticism about the advertising industry
1975 to 1985
Around 1,600 ads per day were displayed to the average American through all forms of media
The first promotional spam email was sent in 1978, just one year after the invention of computers
1985 to 1995
Online shopping began and boomed through Amazon and eBay
A 44% click-through rate was achieved by the first Web banner ad from Hotwired, which introduced Internet advertising in 1994
1995 to Today
Total online advertising spending reached $300 million in the mid-1990s and more than tripled by 2000
73% of consumers claim that positive online reviews make them trust a business more, which is all due to the launch of Yelp in 2005
Facebook debuted ad targeting features to marketers in 2009

Infographic by HubSpot.
Discover how today's online advertising is influencing consumer purchasing. Contact MDG today at 561-338-7797 or visit www.mdgsolutions.com.
MDG is a full-service advertising agency and one of Florida's top branding firms. With offices in Boca Raton and New York City, MDG's core capabilities include creative, branding, logo design, print advertising, digital marketing, email marketing, media planning and buying, TV and radio, outdoor advertising, newspaper, video marketing, Web design and development, online advertising, content marketing, lead generation, mobile marketing, social media marketing, and SEO. To discover the latest trends in branding and advertising, contact MDG today at 561-338-7797.