The Internet of Things Connects Us to Tomorrow's Healthcare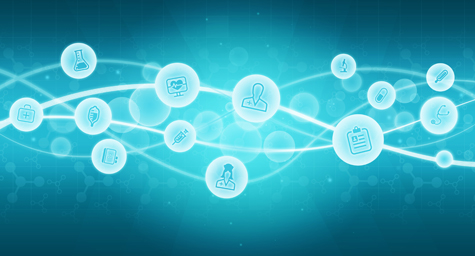 The Internet of Things (IoT) is the use of electronic devices to sense, monitor, and collect data. These sense-enabled devices are connected to a larger network and are able to send collected information to outside sources. These connected devices hold enormous potential for a number of major industries, but they offer many much-needed benefits to the entire healthcare field. Industry experts agree that connected electronic devices offer new levels of efficiency, automation, and convenience to both patients and providers. They also provide unlimited opportunities to improve the delivery of healthcare and the entire healthcare system. With 80 million wearable health devices expected to be available by 2018, the possibilities of using connected devices for healthcare are endless and exciting.
Up until now, connected devices and sensors have largely been used for provider communication in the hospital setting. But now, these levels of communication and connection have expanded virtually everywhere and advanced analytics can both translate and transmit healthcare information between connected patients and providers. As a result, there's no limit to the ease and efficiency that the Internet of Things can bring to every aspect of the practice of healthcare.
High-Tech Advances in Healthcare
In recent years, the Internet of Things has made numerous technological advances possible. Many of these are ideal for enhancing the practice of healthcare. Yet HealthITAnalytics.com reported that the healthcare industry as a whole has been hesitant to embrace these technological innovations for a number of reasons. For one, healthcare institutions have extremely conservative practices and are cautious about change. Secondly, healthcare is a topic that doesn't excite patients due to their frustration with the system and their fears regarding illness.
But now, an increasing number of healthcare providers and institutions have become open to exploring the use of connected devices and sensors for healthcare delivery and maintenance. This willingness has been triggered by the development of innovative sensor technologies, high-speed Internet networks, and sophisticated analytics that are able to interpret and act on a collection of data. Today, many clinical trials involving the use of medical sensors are scheduled and underway. According to TechTarget.com, the growing acceptance and adoption of this technology has led to the desire and demand for more advanced innovations capable of delivering more specific data to meet patient and provider needs.
Even though the healthcare industry has become more open to the use of this technology, patients have been slower to embrace it. Some say it's because they associate healthcare with illness, high costs, inconvenience, and discomfort. As a result, many healthcare providers have tried to get patients to use tools like online access and patient portals with little luck. And many patients who have used these high-tech resources have been frustrated with their limited capabilities and uncertain functionality.
Yet now that advances in technology are fine tuning these systems and more providers are adopting these methods, the healthcare industry is hopeful that patients will become more willing to using these connected medical aids. Industry experts believe that increasing provider usage will encourage patients to start accepting this technology, but what will prompt a major shift is widespread patient understanding of the medical value, personal convenience, and financial savings they offer.
Connected Devices in the Internet of Things
While new high-tech devices are being developed at a rapid pace, not all of them are designed for healthcare use. Only devices that meet a specific set of criteria are eligible for healthcare monitoring, maintenance, and management. One primary criterion is that the connected device must be aware of its surroundings by being equipped with a special sensor that can collect data instantly. In addition, an eligible device needs to be autonomous and able to communicate the collected data with outside devices or locations as soon as certain conditions are met. Finally, it needs to be capable of prompting an alert when required.
According to a report by the Atlantic Council, four categories of devices suit these medical specifications:
Consumer-based devices, such as heart-rate monitors and fitness tracking devices.
External, wearable devices like insulin pumps.
Internally embedded devices, including miniaturize sensors placed in the body, implanted defibrillators, and pacemakers.
Stationary devices like IV pumps and at-home health monitors.
What the Internet of Things Can Save Patients
One of the main catalysts for the development of medically connected and sensor-based devices is the potential to make healthcare more efficient, less expensive, faster, and easier for patients.
In recent years, a variety of connected devices have been introduced to patients in various forms to enhance their personal health. These greatly reduce the patient's need for direct doctor contact and help them improve their overall health. These devices are currently being used by patients to monitor their medical conditions, let them track their fitness progress, and remind them about proper health maintenance.
In the future, connected devices will be used to let healthcare providers monitor patients at home. This kind of home-based monitoring through connected devices and sensors will allow for the convenient medical management of a patient, their progress, and their medical needs. Such at-home patient monitoring can lower the patient's costs for medical services and treatment.
For instance, sensors worn by patients with chronic diseases can detect emerging complications and alert their doctors about sudden medical problems so they can receive earlier medical intervention. Such early detection can greatly lower their healthcare costs by allowing them to get treatment at a more manageable stage. In addition, sensors can notify patients and pharmacies when their medications need to be refilled, which can save them the time of going to the pharmacy and the fear of forgetting to refill them.
Along with helping patients who are sick, medical sensors can also keep people well. In the coming years, they'll enable patients to practice the proper preventative measures to protect themselves from serious medical illness by providing early indications that they're getting sick or need urgent medical care. The use of sensors as a means of medical prevention can save patients a great deal of money, time, worry, and pain.
The Efficiency for Providers
The Internet of Things is also poised to make the delivery of healthcare more efficient for providers. By detecting a patient's medical problems earlier through the use of at-home monitoring, doctors and healthcare institutions can reduce the enormous amounts of time and money they devote to patient care.
And through sensors and radio-frequency identification technology in the hospital, healthcare providers will be able to monitor patients' health consistently and conveniently. Patient sensors will immediately notify doctors when patients need urgent medical care either at home or in the hospital, which makes the healthcare process more efficient. Sensors used in the hospital setting will also optimize hospital flow by allowing providers to transfer patients much faster and more easily among departments, staff, equipment, and hospital rooms. These sensors will also be able to notify providers when procedure rooms are open, that support staff is needed, and if patients have endured long waiting times in the emergency room.
The Prognosis of Connected Devices for the Future of Healthcare
Connected devices hold unlimited promise and power for every aspect of healthcare. While these devices and sensors are now predominantly being used for personal health tracking and monitoring, the next generation of connected devices will be capable of so much more. The Internet of Things is poised to revolutionize healthcare as we know it—for the patient, the provider, and the entire healthcare industry.
Treat yourself to the latest in healthcare marketing strategies. Contact MDG.
MDG, a full-service advertising agency with offices in Boca Raton and New York, NY, is one of Florida's top healthcare marketing companies and branding firms, whose healthcare clients include Dental Care Alliance, MDVIP, Max Planck Florida Institute, HCA East Florida, Primary Pharmaceuticals, and MD Now. MDG's core capabilities include branding, logo design, print advertising, digital marketing, mobile marketing, email marketing, media planning and buying, radio and TV advertising, outdoor, newspaper, video marketing, infographic development, website design and development, content marketing, social media marketing, and SEO. To learn more about the latest trends in healthcare marketing, contact MDG.