The Key to Engaging Hotel Guests through Social Media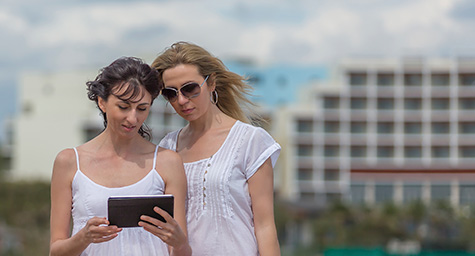 Social media has changed the way that hotels connect with its customers. But they shouldn't limit their social connection to before and after visits. Instead, social media can be carried throughout a guest's entire stay. Most hotels have barely tapped the potential of adding social media to their hospitality marketing strategies. But by being smart and creative, hotels can use social channels to engage guests every day of their stay. To help hotels use social media to give guests a more social experience, LodgingMagazine.com shared ways to get guests buzzing.
Make Stays More Social
People are inherently social. But when guests are in new places and amidst unfamiliar faces, it can difficult to entice them to make connections with other guests. But in the age of social media, social channels bring people together, which is why smart hotels are using them to bring guests together with ease.
For instance, The Four Seasons Dallas came up with the concept of "social walls." Over the busy Fourth of July weekend in 2013, the hotel installed screens in its lobby that displayed social posts from its other hotel guests. These screens helped guests get to know each other and connect during their stays. By the end of the holiday weekend, the hotel had been included in more than 243,000 social media impressions and reached more than 100,000 social media users across various platforms.
Another example of social media marketing savvy is The 1888 Hotel in Australia, which offers screens in its lobby showing Instagram images posted by guests during their stays. In addition, the hotel set aside a special selfie area and created "Insta-Walk" maps to guide guests to perfect places for photos. And guests with more than 10,000 followers or a great Instagram hotel photo can win a free night's stay.
Let Guests Book Their Stays on Social Pages
Major hotels are making it simple for guests to make their reservations right through their brand's social media pages. Trump guests can book on its Facebook page, while Loews' guests reserve through Twitter, and guests at Conrad Hotels and Resorts can reserve their rooms on Instagram.
This strategy can be leveraged to other parts of the stay, including checking in, checking out, and using hotels amenities.
And some hotels are on this track, such as the Sol Wave House Hotel in Spain. The hotel has a special hashtag for guests to tweet the concierge and request drinks by the pool or place a room service order. Guests can also get taxis by sending a tweet with the hashtag #WaveTaxi. And every Friday night, the hotel hosts Twitter pool parties and promotes these events using the hashtag #TwitterPoolParty.
Give Hotel Apps a Social Spin
Bringing a hotel's app into its guests' social media presence may be the most important way for hotels to increase guests' social engagement. Many hotel brands have an app, so these simply need to be tied into the guests' social experiences.
The Ritz-Carlton is already using this strategy with its feature called Sharable Experiences. Guest can use the hotel's app to transform photos from their stay into vintage-inspired posters that can be shared on social media.
And Marriott International is working on new ways to help guests connect through its app, which they're calling a social concierge.
By bringing social media into the guest experience and their hospitality marketing efforts, hotels can keep guest engaged to ensure a more memorable stay.
Discover what's new in hospitality marketing. Contact MDG.
MDG, a full-service advertising agency with offices in Boca Raton and New York, NY, is one of Florida's top hospitality marketing companies and branding firms. MDG's core capabilities include advertising, branding, logo design, creative, infographic development, digital marketing, creative media planning and buying, radio and TV advertising, website design and development, email marketing, mobile marketing, content marketing, social media marketing, and SEO. To stay on top of the latest trends in hospitality marketing and advertising, contact MDG.