The Media Habits of Americans in 2017: Internet, TV, Radio, and Print Trends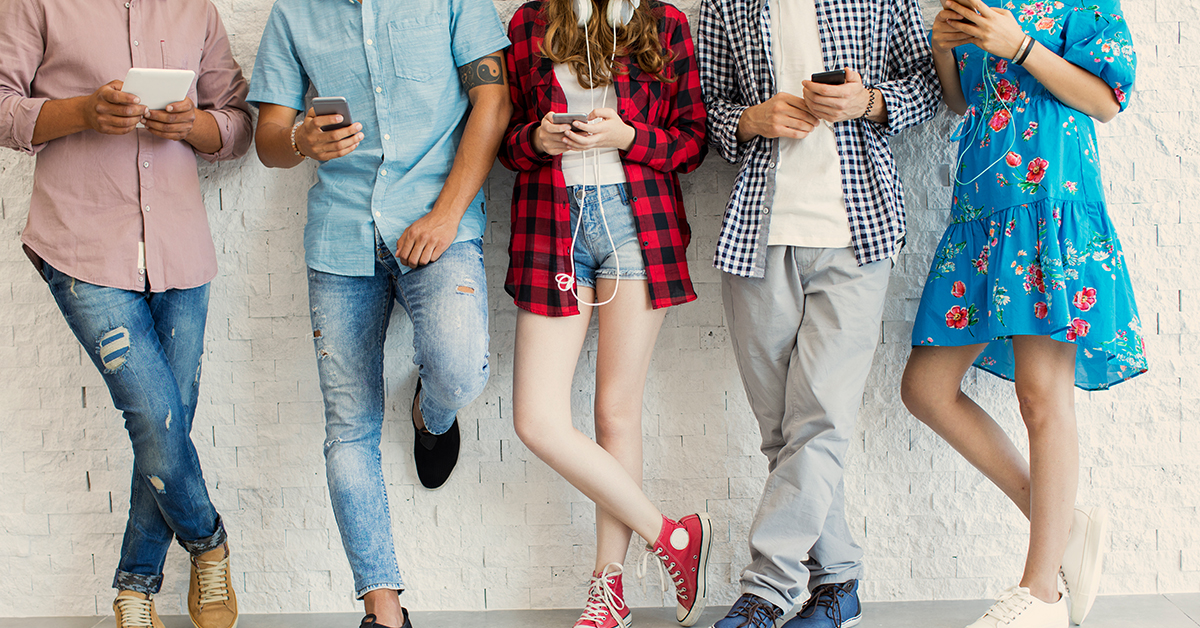 It's clear that the rise of the Internet has impacted how Americans consume media.
Anyone who pays attention to their own behavior—or especially the behavior of younger generations—can tell that we're consuming text, video, and audio in different ways, and in different mixes, than we used to.
However, while this broad shift is impossible to miss, the details are often difficult to discern.
Exactly how are people spending their media time these days? To what extent are new channels and traditional channels being used? How do the habits of older and younger consumers differ?
Recent reports from eMarketer (The Global Media Intelligence Report) and Nielsen (Total Audience Report 2Q17) do an excellent job of addressing these questions.
What emerges from the research is that U.S. media habits in 2017 are more nuanced than they are often portrayed.
Specifically, the idea that digital channels are simply cannibalizing traditional channels is by no means the full story.
For example, the Nielsen researchers found that people are actually spending significantly more time, on average, with media today than they were two years ago.
In other words, digital isn't just changing the mix; it's also increasing the overall market.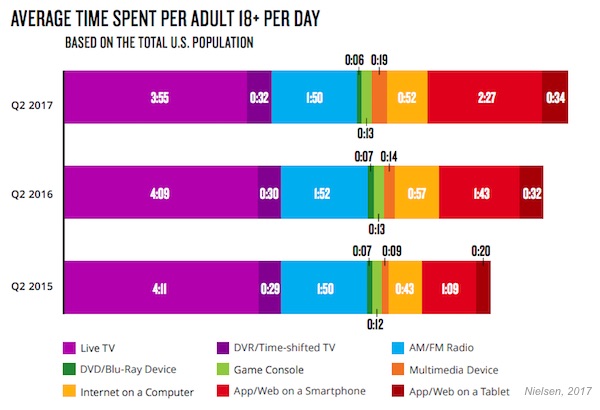 This overall complexity is reflected in the format-specific data.
Here are a few of the key findings related to popular channels from the research:
Internet and Social Media
The big story in terms of Internet use is that it's now mainstream, but also age and income dependent.
According to Gfk MRI research, as cited by eMarketer, Internet penetration has reached 82.5% of the U.S. adult population.
Some 96% of 18-to-24 year-olds go online regularly compared with 53% of those 65+. Nearly 95% of people living in homes with household incomes of $100k+ go online regularly compared with 60% of those with incomes under $25k.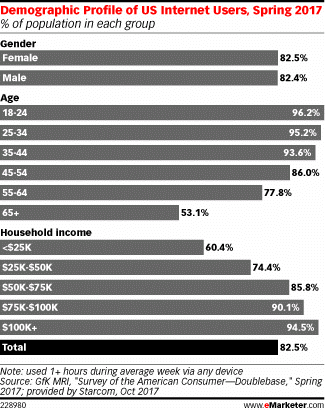 What's powering the growth in Internet use? Mobile phones. Some 96% of Americans surveyed by Gfk MRI have a mobile phone and 82% have a smartphone.
In terms of social media, the Gfk MRI survey found that 68% of Americans have used a platform in the past month. Women are more likely than men to use social media (74% vs. 62%) and consumers ages 18 to 24 are nearly three times more likely than consumers age 65+.
Television and Streaming Video
Traditional television remains widely used by Americans in 2017, but it's more popular with older consumers than younger ones.
According to the Gfk MRI research cited by eMarketer, 89% of the adult population in the U.S. watches at least half an hour of TV each week. Some 45% of respondents have cable, 24% watch free broadcast television, and 25% have satellite TV.
Some 96% of consumers age 65+ watch 30 minutes or more of TV each week, compared with 79% of 18-to-24 year-olds.
Conversely, 75% of 18-to-24 year-olds watch digital video on YouTube, whereas just 20% of 65+ year-olds do so.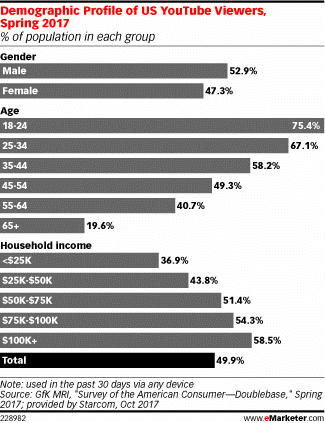 Radio and Streaming Audio
As with television, traditional radio remains remarkably resilient: 85% of the U.S. adult population listens to at least half an hour of radio each week.
According to Nielsen research, the radio audience size has held steady or grown across all age groups over the past two years. In March 2015, some 124.8 million consumers were reached via radio each week; in March 2017, that audience size was 125.4 million.
The researchers posit that this stable audience likely is largely due to people continuing to listen in workplaces and also while commuting.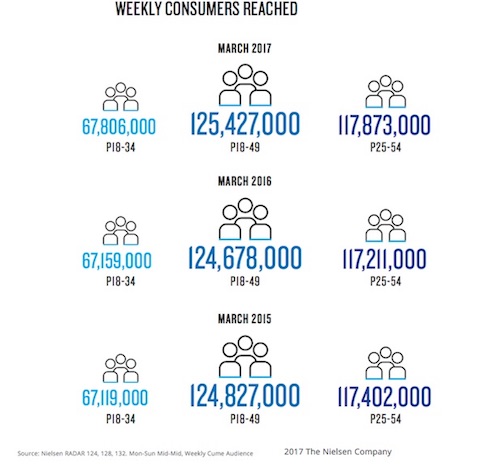 As for streaming audio, its market share is significantly smaller than traditional radio: only 21% of U.S. adults say they listen to at least half an hour of music each week via the Internet or a radio app.
However, this gap between traditional and digital may not last for long: in the first half of 2017 the number of online audio streams jumped by 62% compared with a year earlier.
Magazines and Newspapers
Finally, what about good ol' print?
Magazines remain relatively popular. According to Gfk MRI research cited by eMarketer, 72% of U.S. adults say they read at least one magazine each month and 91% say they've read a magazine in print or digital form in the past six months.
Newspaper readership is significantly smaller: 45% of U.S. adults polled said they've read a paper in the past 28 days. However, 40% say they've looked at an electronic/web version of a paper.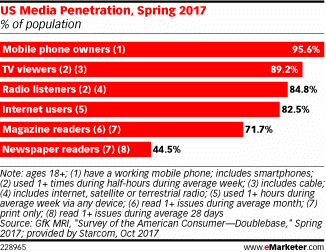 So, what should marketers make of all of this?
Broadly, the story seems to be that digital is ascendent, especially with younger consumers, but traditional channels continue to have the largest audiences. Given that, most brands should continue to use a well thought-out media mix, rather than relying on a digital-only approach.
Get the full story on how today's consumers are spending their media time. Contact MDG today at 561-338-7797 or visit www.mdgsolutions.com. 
MDG, a full-service advertising agency with offices in Boca Raton and New York, NY, is one of Florida's top branding firms. MDG's capabilities include print advertising, direct mail marketing, branding, logo design, creative, media buying and planning, radio and TV advertising, outdoor, newspaper, digital marketing, website design and development, online video advertising, infographic development, email marketing, video marketing, mobile marketing, content marketing, social media marketing, paid search marketing, and SEO. To learn about the latest trends in advertising and branding, contact MDG today at 561-338-7797 or visit www.mdgsolutions.com.