The Mobile-First Index Survival Guide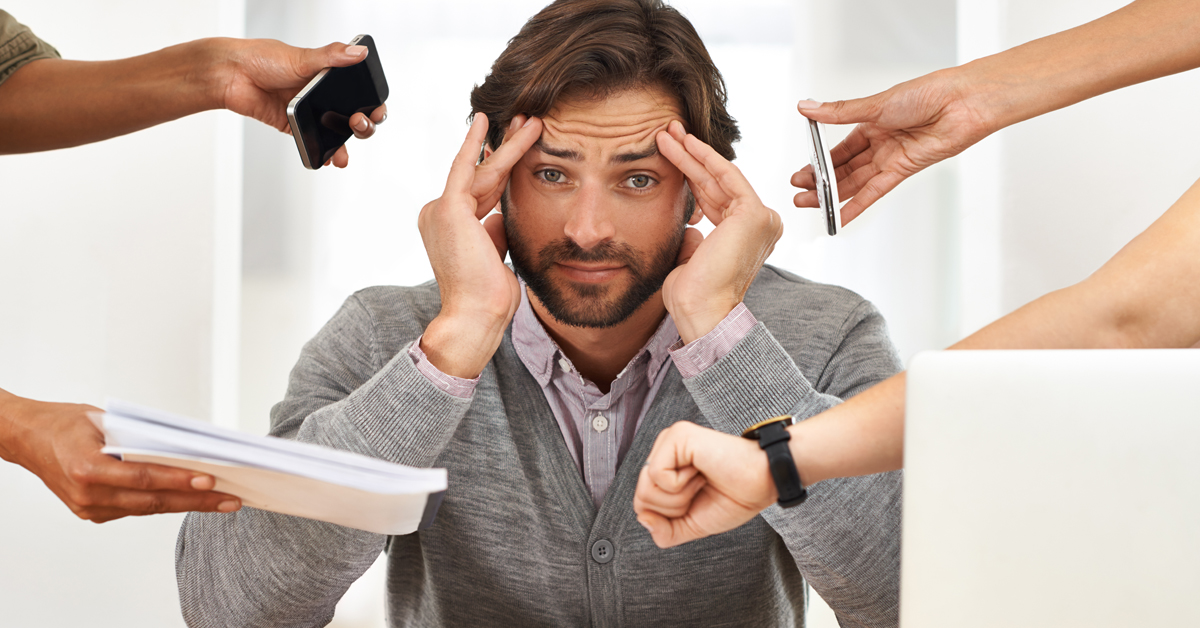 While there's no need to fear Google's soon-to-deploy mobile-first indexing, this event marks the formal transition to a genuine "mobile first" world of search. Business owners globally need to be aware of several considerations and make preparations accordingly.
With the launch of the mobile-first index, Google will be creating and ranking its organic results based on the mobile version of a website's content. Considering that more than 50% of all search takes place on mobile devices, this makes sense as a practical advancement for creating results that will satisfy the needs of mobile search users.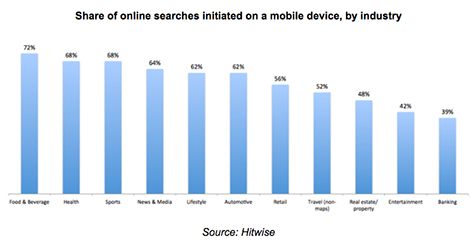 That being said, it could be a profound departure from the traditional signals that have influenced desktop search results. Google has crawled the web from a "desktop" point of view for more than a decade, leveraging more than 200 ranking factors that have shifted in precedence based on updates to the core ranking algorithm. While the ranking factors evaluated for mobile websites were, for the most part, treated as concurrent with desktop, it's not explicitly clear how that will play out in a genuinely mobile search environment.
What's peculiar about the transition is that Google, so far, has been adamant that business owners without a mobile website shouldn't worry. While it's clear that Google is putting more emphasis on the mobile variation of a website, it will crawl the desktop variation just the same. Google said, "If you only have a desktop site, we'll continue to index your desktop site just fine, even if we're using a mobile user agent to view the site."
That certainly answers the question regarding indexation, but it doesn't directly address concerns about how links and content will be treated. In many instances, links and content on mobile websites (such as a dedicated mobile version) can be different from those acquired on the actual site (this is not pertinent to responsive websites—only to dedicated mobile). Since mobile websites tend to have lighter content than desktop variations, that may present a problem for SEO-conscious business owners. Google has made it clear that it will look primarily at the mobile version of a website, which could be an indicator that content-heavy desktop variations of specific pages may not get the weight they deserve (in the context of page-level relevancy signals). A responsive website design is obviously the immediate solution to this potential problem.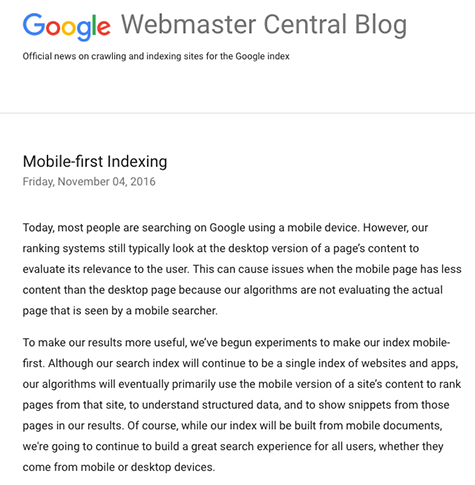 While page-level relevancy between mobile variations of websites and desktop variations are concurrent, the other major question is the mobile-first index's impact on legacy rankings. Both Gary Iles and Paul Haar from Google have indicated that mobile-first indexing should not change the overall rankings (emphasis on "should"). Both Google representatives alluded to the point that the rollout wouldn't have any detectable change (that's a best-case scenario). While this is all speculative, it makes sense from a user perspective since, traditionally, Google performs extensive testing before rolling out substantial changes to its results. It's rare for Google to suddenly implement a change that would cause profound negative repercussions for users.
One of the other predominant questions in the SEO community is whether the deployment of the mobile-first index will catalyze the "mobile-friendly ranking boost" that was technically put into place following last year's Mobile Friendly Update. Most business owners reported minimal, if any, impact from that ranking boost, but that doesn't mean the impact won't be more substantial following the full launch of the mobile-first index.
Google has been clear that content that's not considered "mobile friendly" will not rank well. That will probably remain the case in the new index and amplify negative repercussions for non-mobile friendly websites. To that point, business owners will essentially need to become more vigilant in ensuring that their web experience is genuinely mobile friendly, according to Google's specifications; the best way to do this is to use the "Fetch and Render" tool in Google Search Console. Specifying the mobile:smartphone user agent and inspecting various pages within the primary navigation paths of the website is the most effective technique to identify if mobile usability or rendering issues are present. Business owners can also use the Mobile Friendliness Testing Tool, which evaluates a website as a whole.
So the good news is, if a website passes the "mobile friendliness threshold," it's likely that performance will remain strong following the deployment of the mobile-first index. In the context of ranking signals, however, these will emanate from the mobile version of the site (it doesn't matter if the website is responsive). Google has traditionally ranked the mobile version of a website based on signals from the desktop version of a website. This is expected to completely change, as Google will be using the mobile version of the website—exclusively—to detect various ranking signals. In that scenario, the page speed of a mobile website will ultimately determine the rankings of the mobile site and the desktop site.
Google will likely gather its page-level ranking signals from the mobile site as well, which means content elements that are stripped out of a desktop site for enhanced user experience on a mobile site could be detrimental to the contextual relevancy of the page as a whole.
Given that scenario, there is mounting concern that link signals, as they contribute to rankings, could be affected. Exclusively mobile content, by nature, tends to have fewer links than desktop content. That could cause a shift in cumulative organic visibility for websites with strong desktop experiences and toned-down mobile site experiences. Despite Google still being in a "test" mode with the mobile-first index, it's not clear how the impact of link signals will be affected by the rollout. Google's Gary Iles said in a recent interview, "I don't want to say anything definite about links yet. It's too early for that because things are very much in motion."
To be thoroughly prepared for the deployment of the mobile-first index, business owners need to methodically evaluate how effectively and practically their web experience is engineered to perform on mobile devices. During the Mobile Friendliness Update, business owners were essentially forced to have a mobile version of their website—otherwise, they risked losing organic visibility.
In this scenario, business owners need to factor how well their mobile site experience performs and how well the mobile site experience follows SEO best practices.  At the top level, business owners should ask:
Am I currently leveraging a responsive website design that's thoroughly intuitive and satisfying for users?
Is there valuable content that appears differently on the mobile variation of my website?
Do I need to invest in re-architecting or envisioning a stronger mobile web experience for my audience?
Is my mobile website experience stronger than my desktop website experience?
Is there anything I can do to enhance the speed of my mobile website experience?
While a thoughtfully designed mobile website should deliver an engaging, intuitive, and memorable user experience, the reality is that most business owners have yet to fully embrace the "mobile first" mentality. Smartphone use is ubiquitous in our culture and has entirely transformed the behaviors of human-to human-communication. By not going absolutely out of one's way to ensure a seamless and satisfying mobile website experience, it seems the repercussion will be a mild to moderate sacrifice of visibility in Google's results.
The mobile-first index will likely be fully deployed before the end of Q1 2017, which means there's still plenty of time to adapt. At the minimum, now is the best time for business owners to take a step back and critically evaluate how effectively engineered their mobile web experience is for their target audiences.
Keep up with the latest trends in SEO. Contact MDG today at 561-338-7797 or visit www.mdgsolutions.com.
MDG, a full-service advertising agency with offices in Boca Raton and New York, NY, is one of Florida's top branding firms. MDG's capabilities include print advertising, direct mail marketing, branding, logo design, creative, media buying and planning, radio and TV advertising, outdoor, newspaper, digital marketing, website design and development, online video advertising, infographic development, email marketing, video marketing, mobile marketing, content marketing, social media marketing, paid search marketing, and SEO. To learn about the latest trends in advertising and branding, contact MDG today at 561-338-7797 or visit www.mdgsolutions.com.