Art Meets Science: The Dual Role of the Modern Marketer [Infographic]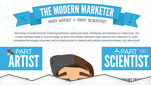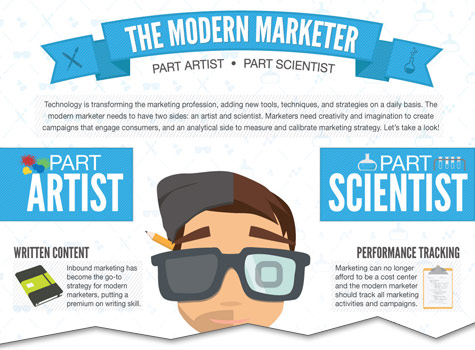 To succeed in the fast-paced world of today's marketing, the modern marketer must be multi-dimensional, with multifaceted knowledgeability. Although art and science tend to lean toward different ends of the creative spectrum, the modern marketer must channel both artistry and science. Socialmedia today reported on an infographic by Matt Wesson from Pardot that explains the dual role of the modern marketer.
According to the infographic, marketers today need to find a balance between art and science. In the ever-evolving marketing landscape, the role of the marketer is no longer reliant upon an ad campaign's level of catchiness. It's simply not enough. Marketers must harness both the left brain and the right brain to communicate successfully. Socialmedia today suggests that modern marketers "have a strategic and analytical mind dedicated to measurable metrics but that is always craving a creative outlet." As stated in the infographic, the modern marketer must possess the following qualities:
Be a creative writer
Have an eye for great visual content
Understand the power of social media for engaging with consumers
Live by the rules and best practices of email marketing
Be dedicated to tracking and measuring all marketing efforts
Enjoy using analytics tools to understand data and visualize trends
Be a budgeting maven
Never stop looking for new tools and resources to understand consumers
As the infographic suggests, the modern marketer is one part artist and one part scientist. Create a seamless blend of creativity and analytics, and marketing success is attainable.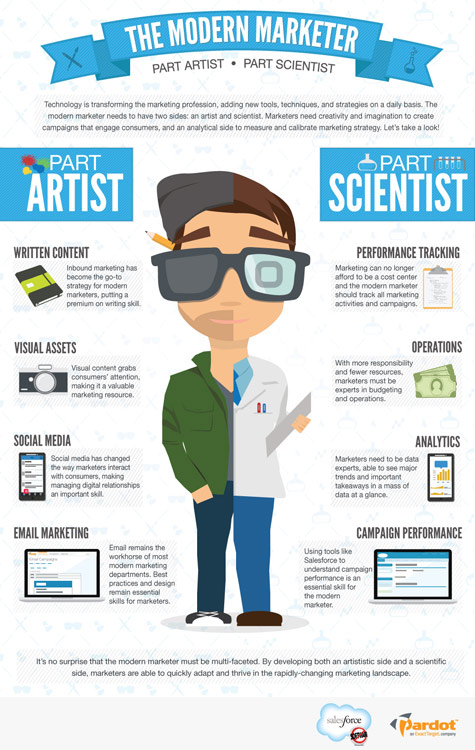 Infographic by Pardot.
For more information on implementing modern marketing techniques, contact MDG today at 561-338-7797 or visit www.mdgsolutions.com.
MDG is a full-service advertising agency and one of Florida's top creative ad agencies. With offices in Boca Raton, FL and New York, NY, MDG specializes in developing integrated 360° marketing strategies that give clients a competitive advantage. Our core capabilities include branding, logo design, digital marketing, print advertising, mobile marketing, email marketing, media planning and buying, TV and radio, video ads, infographic development, Web design and development, content marketing, social media marketing, and search engine optimization (SEO). To stay on top of the latest trends in modern marketing and advertising, contact MDG today at 561-338-7797 or visit www.mdgsolutions.com.
Read more at Social Media Today.