The New York Times Starts Charging For Content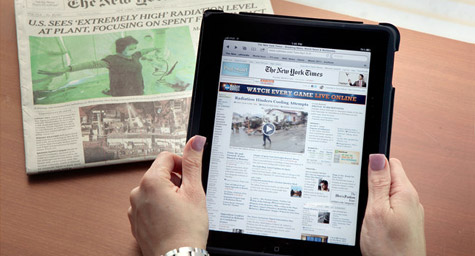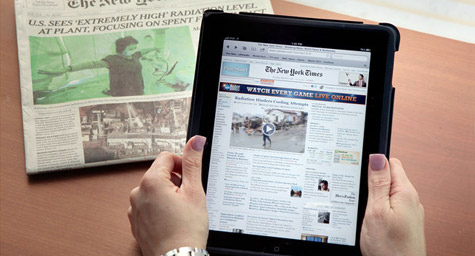 Following the lead of The Wall Street Journal and the Financial Times, The New York Times will begin charging the most frequent readers of its Web site for subscriptions to news they previously read for free.
Visitors to NYTimes.com will be able to read 20 articles per month without a fee, which is a limit that was intended to bring in subscription revenue from the most loyal readers without driving away casual visitors who make up the overwhelming majority of the website's traffic. Yet on their 21st article, readers will have the option of purchasing one of three digital packages. Choices include $15 for four weeks of Web site access and a mobile phone app (or $195 for a full year), $20 for Web access and an iPad app ($260 a year) or $35 for an all-access plan ($455 a year). Subscribers who receive home delivery of the newspaper will have free and unlimited access across all Times digital platforms except e-readers. In addition, subscribers to The International Herald Tribune, which is The Times' global edition, will also enjoy free digital access.
In order to reduce losses among the Web site's more than 30 million monthly readers, not all visits will count toward the 20-article limit. NYTimes.com will allow access to visitors who arrive through search engines like Google and social networking sites like Facebook and Twitter. However, there will be a daily five-article limit for people who visit from Google.
The Times is the largest American news organization to put its content behind a pay wall after allowing unrestricted access. The bold move is being closely watched by wary publishers who have struggled with turning online journalism into a profitable business.
"This move is an investment in our future," said Arthur Sulzberger Jr., chairman of The New York Times Co. "It will allow us to develop new sources of revenue to support the continuation of our journalistic mission and digital innovation, while maintaining our large and growing audience to support our robust advertising business. And this system is our latest, and best, demonstration of where we believe the future of valued content — be it news, music, games or more — is going."
For years, newspapers have been providing Web access for free with the idea that online advertising would cover their costs. Unfortunately, online advertising has not increased quickly enough to make up for the decline in traditional print advertising. As a result, numerous publications have begun to charge online consumers the same way they do for print.
While some media analysts express great doubt that readers will be willing to pay for news, the model that The Times is presenting represents an awareness that a successful online business model rests on a small proportion of highly engaged readers. If readers resist paying, the newspaper risks losing its stature as the most-visited newspaper Web site in the country, which is important to many advertisers. Still, revenue losses from any declines in traffic could be offset by advertisers willing to pay a premium for a highly-engaged audience.
Unfortunately, the gloomy outlook for the industry has left newspapers with few options. Newspapers have experienced little gains from the end of the recession and analysts predict greater declines. Some smaller newspapers have started using a measured or "freemium" system similar to the The Times' model. Others only charge for select content. Regardless, the real measure of success will be whether readers are willing to pay for their news. With this new subscription service, The Times is simply taking charge of the issue at hand.
MDG, a full-service Florida advertising agency, with offices in Boca Raton and New York, NY, specializes in developing targeted Internet marketing solutions, exceptional creative executions and solid branding and media buying strategies that give clients a competitive advantage.Our core capabilities include print advertising, branding, logo design , creative, digital marketing, media planning and buying, TV and radio, public relations, Web design and development, email marketing, social media marketing and SEO. To view MDG's portfolio, click here.
Connect with MDG on Facebook, Twitter and YouTube