The New Yorker "Innovators" Issue's Augmented Reality Cover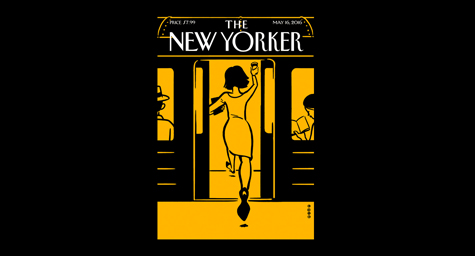 The New Yorker captured the innovative spirit of its annual "Innovators" issue by featuring its first augmented reality (AR) covers. The magazine's AR experience was sponsored by Qualcomm Incorporated and made accessible via a special app for both iOS and Android devices called Uncovr. Readers who downloaded the app could hold their digital device's camera over the publication's AR-powered front and back covers, as well as the issue's Qualcomm ads, to launch the interactive experience. MediaPost.com featured more on this digital design that took a page from the innovators in the issue.
The Innovators issue provided the ideal forum for the magazine to express the priority it places on finding innovative ways to explore the storytelling process and engage with its readers via both editorial and advertising. The magazine's goal with its first augmented reality effort was to bring the printed page to life through digital devices and provide readers with an entirely new experience.
The AR covers were designed by the magazine's veteran contributor Christoph Niemann and monthly art editor Françoise Mouly. For readers who downloaded the special app, the front and back covers displayed a swerving subway car and a sprawling city skyline. Embedded within the cityscape were little surprises, which readers discovered by moving their digital devices across the pages.
Beyond the covers, readers could also use the app to interact with the full-page Qualcomm ads in the issue. All of these virtual, visual experiences were intended to engage readers' attention and let the augmented reality images both look and feel within reach.
According to a Qualcomm executive, the AR efforts highlight how mobile and connective technologies are coming together to drive innovation across various industries and create more compelling reader experiences.
Get real insights on using augmented reality in marketing. Contact MDG.
MDG, a full-service advertising agency with offices in Boca Raton and New York, NY, is one of Florida's top branding firms. MDG's capabilities include print advertising, direct mail marketing, branding, logo design, creative, media buying and planning, radio and TV advertising, outdoor, newspaper, digital marketing, website design and development, online video advertising, infographic development, email marketing, video marketing, mobile marketing, content marketing, social media marketing, paid search marketing, and SEO. To learn about the latest trends in advertising and branding, contact MDG.