The NFL Gets Serious About Domestic Violence in a Disturbing New Super Bowl Ad #NoMore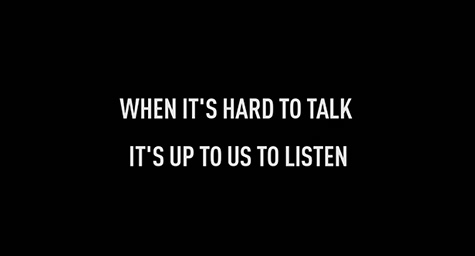 A pizza order turns ugly in a new TV spot for the National Football League's "No More" campaign against domestic violence. The 30-second commercial debuting during Sunday's Super Bowl game was inspired by an actual 911 call. Although the spot from Grey New York doesn't show actual scenes of violence, its message is clear. Adweek described the spot in a recent article.
A woman's voice is heard as she dials 911 and pretends to order pizza. The 911 operator wisely senses the call is a plea for help. He makes note of the address and assures the caller the police are on their way. All the while, the camera pans the home where broken pictures, various strewn objects, and a hole punched in the wall provide evidence of an altercation. The super at the end of the spot delivers its own punch, "When it's hard to talk, it's up to us to listen."
Although the NFL has been running the "No More" campaign during regular season, previous spots featured current and former NFL players, including Eli Manning, John Lynch, and Chris Carter, with a somewhat softer message. In these previous spots from Y&R, each player delivers a line starting with, "No more…" and followed by catchphrases such as, "…boys will be boys," or "…what was she wearing?"
The reality of the pizza delivery spot takes the seriousness of the campaign to a powerful new level. In addition to airtime on the Super Bowl, the commercial will run on digital channels and be promoted by celebrities. Both airtime and production costs were covered by the NFL. Comments can be posted at #NoMore and #SB49.
Sports Illustrated is weighing in on the domestic violence issue, too. After initially turning down an effort from advocacy group Ultraviolet, the magazine has now agreed to run an ad, depicting a brutal attack of a woman by a football player, on its website.
The verdict is still out as to whether the NFL can repair the damage from last year's bungling of the assault by Baltimore Ravens player, Ray Rice, on his then fiancée, Janay Palmer. If nothing else, this new effort provides further proof that the league is finally taking the matter of domestic violence seriously.
Discover how powerful TV advertising can generate awareness and make a difference. Contact MDG today at 561-338-7797 or visit www.mdgsolutions.com.
MDG, a full-service advertising agency with offices in Boca Raton and New York, NY, is one of Florida's top branding firms. MDG's core capabilities include print advertising, direct mail marketing, branding, logo design, creative, digital marketing, media buying and planning, radio and TV advertising, website design and development, online video advertising, email marketing, content marketing, social media marketing, and SEO. To learn about the latest trends in advertising and branding, contact MDG today at 561-338-7797 or visit www.mdgsolutions.com.