The Quantified Self: Using Technology to Improve Health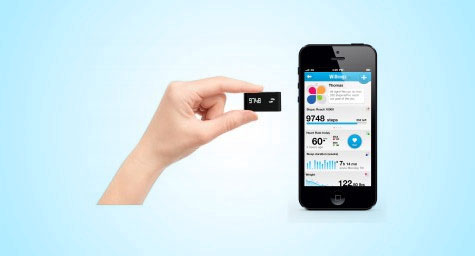 At this year's Consumer Electronics Show (CES), there were an abundance of products based on the growing phenomenon of the quantified self, which is simply the use of technology to improve one's health and well being. This trend toward self-health management has been rapidly gaining momentum, with increasing industry buzz and news coverage, along with inclusion in MDG's "The Digital Diagnosis" infographic. The healthcare industry has also caught on to this trend, which has wisely led them to update their practices and develop digital processes to meet the needs of today's tech-savvy patients. As further evidence of this health-centric shift, the CES displayed a treasure trove of digital healthcare innovations designed to give users the ability to monitor their health and fitness with ease. From state-of-the-art heart rate devices to digital activity trackers, Forbes.com featured the tech tools for taking your health into your own hands.
Personal fitness was a common theme among all of health-related devices, with many companies marketing pocket-sized devices that make it fast and easy to track personal activity levels and fitness goal progress. These devices feature a variety of high-tech bells and whistles, such as Bluetooth® syncing, instant app access, and real-time data storage.
One of CES's most anticipated debuts was the CORE 2, which is the next generation of the activity/health tracker armband and is currently being used by The Biggest Loser®. Featuring four sensors that are smaller than an iPod Nano, this wearable gadget offers an array of interchangeable jewelry-like cuffs and straps for a more fashionable fitness look. It also includes a new heart rate monitoring function, along with energy-saving Bluetoothtechnology that provides live health activity updates on mobile devices and longer battery life.
Another popular introduction was Fitbug's Bluetooth low-energy blood pressure monitor,  which lets users send and view their pulse measurement, including systolic pressure and diastolic pressure, on their smartphones and tablets.
While the number of digital health devices at CES has been steadily rising in recent years, the main differences at this year's show were their growing accessibility to consumers, their availability on mainstream platforms, and their easier integration with mobile devices. These distinctions make them much more consumer friendly, which means the world is one step closer to living a life of the quantified self.
To learn more about latest trends in digital healthcare, contact MDG.
MDG, a full-service advertising agency with offices in Boca Raton and New York, NY, is one of Florida's top healthcare marketing companies, whose clients include Dental Care Alliance, MDVIP, Max Planck Florida Institute, and HCA East Florida. Our 360° approach uses just the right mix of traditional and digital marketing to reach your advertising goals. While some industries may fare better in print and others online, we strive to create a balanced approach, where traditional, social media, and digital marketing efforts support each other and your message is tailored to the medium. To learn more about the latest trends in healthcare marketing and advertising, contact MDG.
Read more at Forbes.com.