The Science Of SEO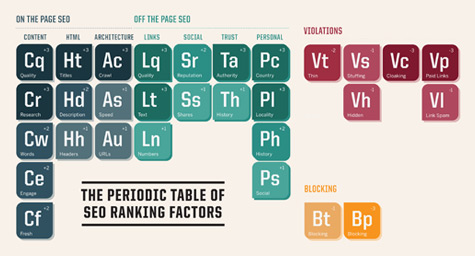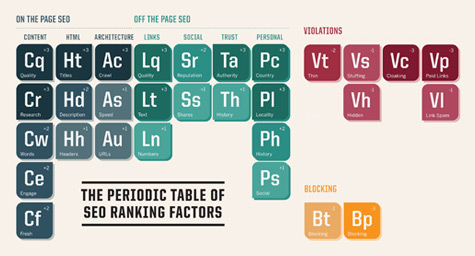 While there's no question that SEO has become an essential digital marketing activity for companies today, there are often questions from businesses that don't understand exactly how it works. To clear up the confusion, Search Engine Land created "The Periodic Table Of Search Engine Ranking Features" as a visual reference to the search engine elements.
This informative table focuses on the most effective ways to generate traffic from Web search results. It's designed to help companies understand the factors they can control directly, as well as those which can indirectly influence their chances of search engine visibility. It also highlights violations that can negatively affect an online presence.
The table avoids getting overly technical by presenting the data in a simple, accessible way. It highlights only the most important factors and introduces general goals that can be easily implemented and achieved.
Whether you're new to SEO or looking for a refresher, this creative table is filled with enough valuable information to help everyone feel in their element.
MDG, a full-service Florida advertising agency with offices in Boca Raton and New York, NY, specializes in developing targeted Internet marketing solutions, exceptional creative executions and solid branding and media buying strategies that give clients a competitive advantage. Our core capabilities include print advertising, branding, logo design, creative, digital marketing, media planning and buying, TV and radio advertising, customer relationship management, loyalty programs, public relations, Web design and development, email marketing, social media marketing and SEO. View MDG's creative marketing portfolio.