The Skinny on Using "Skinny" in Food Marketing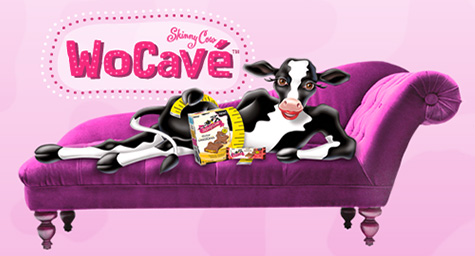 Take a stroll down a supermarket aisle today and you may either be motivated to shed some pounds or feel chastised for reaching for the regular ice cream and not the adjacent "skinny" version. With products labeled "skinny" around every corner, it's reasonable to wonder about the word's appeal to advertisers and its effect on consumers. Brands have gravitated toward using the word "skinny" in food marketing and it's appeared on everything, from cocktails to ice cream sandwiches. Advertising Age weighed in on the ubiquitous use of "skinny" in today's food marketing.
According to Kit Yarrow, a consumer-research psychologist and professor at Golden Gate University, "Skinny is the new 'baby,' as in baby carrots [and] baby spinach. It personifies food and makes it more endearing." Yarrow views "skinny" as a charming step-up from the word "diet," which she views as negative and conveying a too-serious message to consumers.
Food marketers are using "skinny" on an array of brands to denote healthier, guilt-free selections. In 2012, a Technomic report named Bethenny Frankel's Skinnygirl Cocktails the fastest-growing spirit brand, with a 388% increase in growth. Nestle's Skinny Cow brand, launched in 1994, was one of the earliest brands to use the term "skinny." When SkinnyPop popcorn was introduced in 2010 it adopted the trendy word because it implies, according to co-founder Andrew Friedman, "few ingredients, better-for-you and a lifestyle."
Advertising Age asked if skinny might be too body-image centric. Kit Yarrow doesn't think so. She responded, "It's executed in a lighthearted manner. Skinny is just the 'it' word right now." Today, the term is very popular in food marketing, but time will tell if it has a long shelf life.
For more information on food marketing, contact MDG today at 561-338-7797 or visit www.mdgsolutions.com.
MDG, with offices in Boca Raton and New York, NY, is a full-service advertising agency and one of Florida's top creative ad agencies. MDG specializes in developing integrated marketing solutions, exceptional creative executions, and solid branding and media-buying strategies that give clients a competitive advantage. Our core capabilities include print advertising, branding, logo design, creative, digital marketing, creative media planning and buying, radio and TV advertising, Web design and development, content marketing, email marketing, social media marketing, and SEO. For the latest on food marketing trends, contact MDG today at 561-338-7797 or visit www.mdgsolutions.com.
Read more at Adage.com.