The Social Media Report 2012: The Power of Pinterest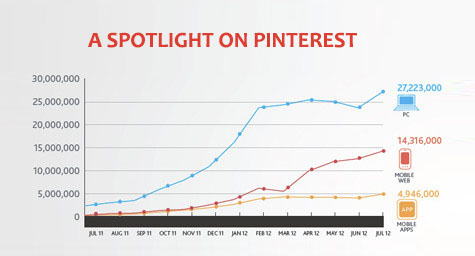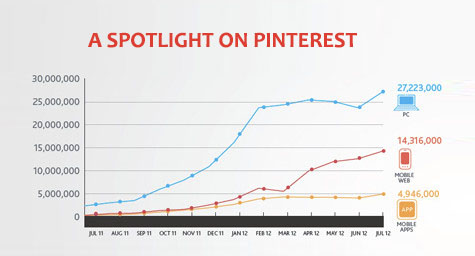 The current state of social media was recently analyzed in The Social Media Report 2012 released by Nielsen. The report revealed how social media has evolved into an essential part of our daily lives. It focused on the myriad ways that consumers engaged with and used these powerful online platforms, as well as how brands and businesses have learned to leverage social media marketing. One of the most noteworthy topics was the phenomenal growth of Pinterest. This photo-sharing social media site has quickly captured the adoration of both consumers and companies, despite only being launched in 2010. MDG recently posted a detailed overview of the many major findings within the report, yet some points about Pinterest deserve special attention.
Its explosive growth has made Pinterest a social media phenomenon. The report highlighted some of the site's stunning statistics over the past year to convey its remarkable rise.
Pinterest landed in sixth position in a ranking of the top-visited social media networks, and experienced an astounding 1,047 percent increase in year-over-year growth. Most of the other social networks only achieved year-over-year growth between 10 percent and 80 percent, while growth of top-ranked Facebook actually declined four percent over the past year.
Pinterest had the greatest year-over-year increase in both audience and amount of time spent of any social network across the spectrum of PC, mobile Web, and apps. The U.S. audience accessing Pinterest via mobile Web increased by 4,225 percent in the last year, while the U.S. audience using the Pinterest app grew by 1,698 percent in the same time span. In addition, the amount of time spent on the Pinterest app jumped by 6,056 percent since last year.
The Pinterest audience has been predominantly female and between the ages of 24 and 49. Over the past year, 84 percent of women have accessed Pinterest via app while approximately 70 percent have used a PC or the mobile Web. While the largest percentage of the U.S. audience has opted for access via app, Pinterest users on PCs spent more than twice as many minutes on the site as app users.
The incredible growth of Pinterest has inspired awe and attention worldwide and its unrelenting momentum should take the site to record-breaking heights.
To incorporate Pinterest into your business's social media marketing efforts, contact MDG today at  561-338-7797 or visit www.mdgsolutions.com.
MDG, one of the leading digital marketing companies with offices in Boca Raton, FL and New York, NY, specializes in developing targeted Internet marketing solutions, exceptional creative executions and solid branding and media buying strategies that give clients a competitive advantage. Our core capabilities include branding, logo design, creative, digital marketing, print advertising, media planning and buying, TV and radio, public relations, Web design and development, email marketing, social media marketing, and SEO.
Read more at Nielsen.com.