The State of the Internet, Part 3: Future Digital Trends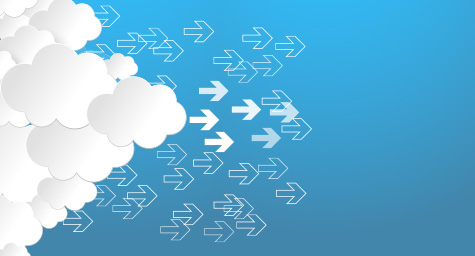 What is in store for digital? How is the landscape going to change? What are the most important future trends to keep an eye on?
To find out, we brought out the crystal ball and sorted through two major overviews released recently: Mary Meeker's 2015 Internet Trends Report and Social Media Examiner's Social Media Marketing Industry Report.
This piece covers the key future changes predicted in those two reports; our two earlier posts in this series look at the big current content trends and social media trends.
So what's on the digital horizon? Quite a lot, according to both Meeker and Social Media Examiner. The reports highlight dozens of developments, from a predicted jump in commercial drone use to the idea that digital notifications will become omnipresent.
In particular, these six shifts stand out as being potentially transformative and impactful to businesses in the next few years:
1.  Mobile advertising will claim its fair share of ad spend:
Meeker notes in her presentation that she is very optimistic about mobile ad spend growth.
Why? Mainly because of this simple fact: Americans currently devote 24% of their media time to using mobile devices, yet only 8% of ad spend goes to mobile. In the United States that represents a $25 billion opportunity.
Moreover, that (huge!) number doesn't even include international markets, nor future mobile growth rates.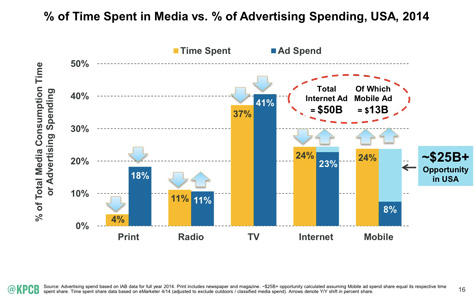 2.  Twitter and YouTube will grow as marketing channels:
When Social Media Examiner asked 3,720 marketers from around the world which social networks they plan to increase their use of, two came out on top: Twitter and YouTube.
Some 65.8% of marketers surveyed say they plan to increase their use of Twitter in the future, the most planned bump of any social media network; YouTube, however, was (very) close behind, with 65.79% of marketers saying they plan to increase their use of the video platform.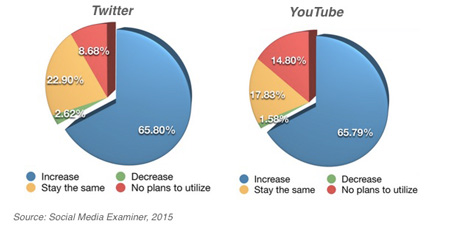 3.  Facebook will get a bigger share of marketing budgets:
While Twitter and YouTube are the networks social media marketing experts are most interesting in using more, Facebook comes out on top in terms of future ad spend.
Some 53% of marketers surveyed by Social Media Examiner say they want to increase their Facebook advertising spend in the coming year, the biggest number for any digital channel; Google ads are next (38% plan to increase spend), followed by Twitter (31%), LinkedIn (29%), and YouTube (26%).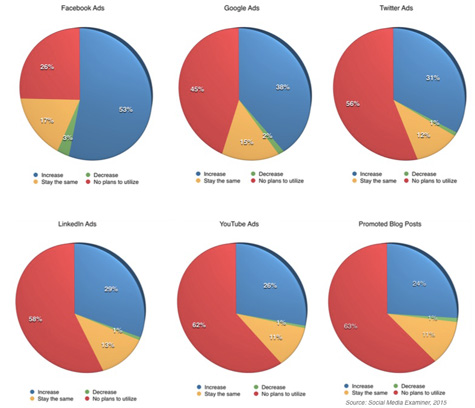 4.  Expect a lot of future Internet innovation from China:

Silicon Valley does not have a monopoly on innovation. In her presentation, Meeker points out that China's tech scene is thriving, with companies of all sizes pushing digital boundaries. Some key examples include:
Tencent WeChat has pioneered how to promote digital gifts at scale, with 1 billion "red envelopes" sent on Chinese New Year's Eve.
Chinese social commerce sites and apps, such as Mogujie and Meilishuo, are already successfully integrating content, community, and sales.
This year, Chinese online food delivery sites will do nearly $1 billion in business.
Mobile manufacturers, such as Xiaomi, are shipping huge numbers of units and now control a majority of the domestic market.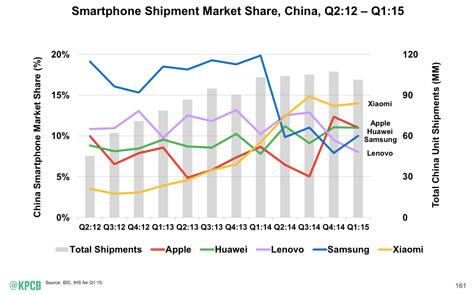 5.  Demographics are fundamentally changing the workplace:
Meeker notes in her presentation that trends aren't just external, they also occur within companies.
She points out that businesses should be prepared for big changes because the workforce itself is changing. Younger workers are more likely to live in urban areas, more likely to be immigrants, and more likely to marry later compared with their older colleagues.
This year Millennials became the largest generation in the workforce (35% of all U.S. workers), which means employers need to be especially aware of their motivations and pet peeves. In particular they need to understand that Millennials deeply value things like meaningful work, and don't value higher pay as much as other workers.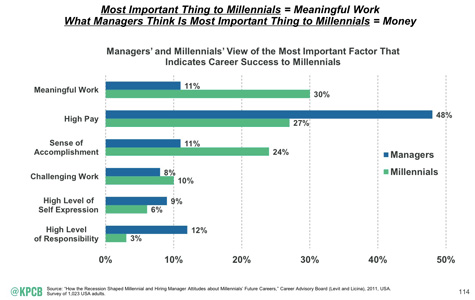 6.  Technology is set to expand to other sectors:
Finally, in her presentation, Meeker puts forward this startling idea: The impact of the Internet has been extraordinary and broad but, in many ways, it's still just the beginning.
What she means by that is that while consumer life has been transformed by digital, many other sectors of the economy—such as business, government, military, education, and healthcare—are still mainly functioning in the same ways as they have for decades. As Internet access and tools expand, these areas will be impacted much more deeply.
In other words: There's much more change to come.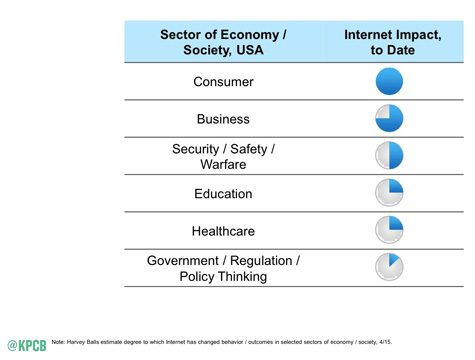 For more insights from the two reports, check out our highlights of the content  and social media trends.
Keep up with the latest trends in digital marketing. Contact MDG today at 561-338-7797, or visit www.mdgsolutions.com.
MDG, a full-service advertising agency with offices in Boca Raton and New York, NY, is one of Florida's top branding firms. MDG's capabilities include print advertising, direct mail marketing, branding, logo design, creative, digital marketing, media buying and planning, radio and TV advertising, Web design and development, online video advertising, infographic development, email marketing, content marketing, inbound marketing, lead generation, social media marketing, and SEO. For the latest trends in advertising and branding, contact MDG today at 561-338-7797 or visit www.mdgsolutions.com.