The Top Five Twitter Conversations That Spun Our World in 2012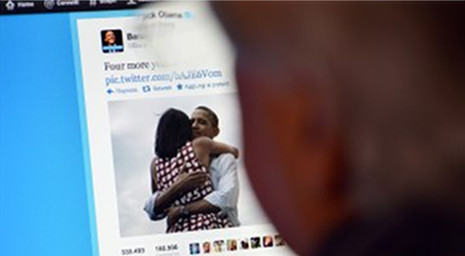 Twitter is a top spot for breaking news today. Yet even more fascinating than the rise of Twitter as a major news resource is the turn of events after the story hits, as social media invites the world to voice their views and share these stories with their social networks. Thanks to hashtags, people can find and follow stories of interest, and then join in on the current conversations. For a review of the most popular Twitter talk of 2012, the social networking service compiled a "Pulse of the Planet List." Time.com featured the list's leading stories.


1. #London2012 – The 2012 Olympic Games in London was the most tweeted event of the year. As thousands of athletes from more than 200 countries came out to London, millions of social media users came on to Twitter to share their pride and support for the athletes from their countries. More than 150 million tweets were sent during the 16 days of games. The most tweets of the competition were sent when Usain Bolt won the gold in the men's 200m sprint, which generated 80,000 updates in a single minute. Interestingly, the most-discussed event occurred at the closing ceremony as the Spice Girls reunited for a pop performance and sparked a staggering 116,000 tweets per minute.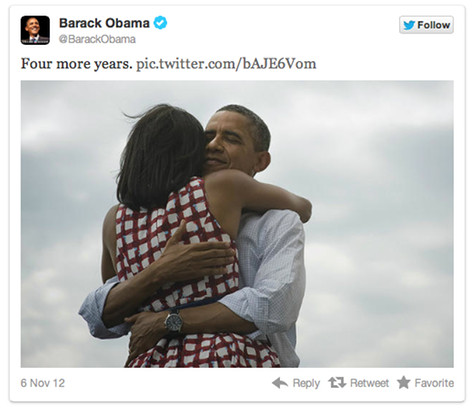 2. #Election2012 – The presidential election got everyone tweeting and talking so much that it's impossible to measure or even imagine the exact amount of comments. The presidential debates launched millions of tweets in a few hours, but Election Day was when Twitter really took off. The day earned a record-breaking 31 million politically minded tweets, which peaked at 327,452 tweets per minute at 11:19 p.m. Eastern with the announcement of President Obama's re-election. At that moment, @BarackObama sent a short message of "Four more years" along with a photo of him and his wife. This tweet was shared 455,000 times that evening and more than 815,000 times to date

3. #Euro2012 – Sports took over Twitter once again with the Euro 2012 Football Championship held this summer in Poland and the Ukraine. Twitter saw even more action than the field as supporters of the 16 qualifying nations shared their anticipation and frustration via 16.5 million tweets over the three weeks of play. The largest discussion of the entire event occurred during the championship match when Spain defeated Italy. Immediately after the winning goal was scored, more than 15,000 tweets were sent per second for a total of 267,200 tweets sent per minute as the game dramatically came to a close.
4. #SummerWars – Television is a social experience in Japan and this summer's broadcast of the Japanese anime film Summer Wars generated 7.8 million tweets about viewers' enjoyment of the movie. Some of the top tweeting times were when the card game Koi-Koi was played in the film, as well as when the movie's main character typed the Japanese phrase for "thank you," which led tens of thousands of viewers to type in tandem.


5. #Sandy – More than 20 million tweets resulted from the devastating hurricane that left many in the Northeast powerless and hopeless. Mobile Twitter usage in New York City doubled on Monday evening immediately after Sandy stormed through the city and left Manhattan in sudden darkness.
By viewing and reviewing the tweet trends of the year, it's clear that Twitter has become a key cultural touchstone that captures what the world is thinking, feeling, and saying about the top topics of our times.
To incorporate Twitter into your social media marketing strategy, contact MDG today at 561-338-7797 or visit www.mdgsolutions.com.
MDG, with offices in Boca Raton and New York, NY, is a full-service advertising firm and one of Florida's premier digital marketing companies. MDG specializes in developing targeted Internet marketing solutions, exceptional creative executions, and solid branding and media-buying strategies that give clients a competitive advantage. Our core capabilities include print advertising, branding, logo design, creative, digital marketing, media planning and buying, radio and TV advertising, Web design and development, email marketing, social media marketing, and SEO. View MDG's creative marketing portfolio.
Read more at Newsfeed.time.com