The Value of Pinterest to Hotel Sales & Marketing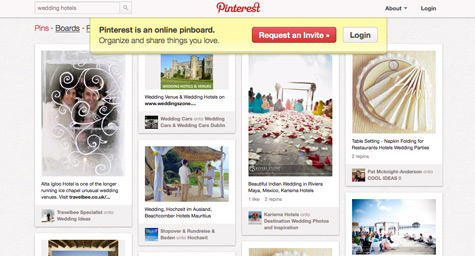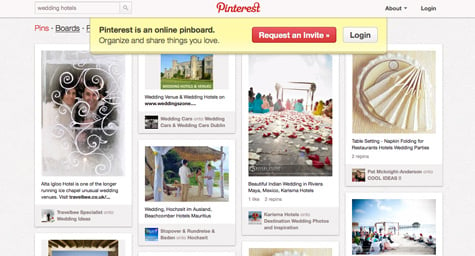 Pinterest continues to prove its popularity with consumers and its power for brands as the image-oriented social media site soars to new heights. In February, Pinterest drove more traffic to websites than Google+, Twitter, LinkedIn, and YouTube together, according to HotelMarketing.com. In addition, the highly coveted female demographic comprises the majority of Pinterest users, which makes the social site incredibly appealing to brands involved in the travel, leisure and hospitality markets. To help hospitality marketers understand the best ways to use Pinterest in their social media strategy, eHotelier.com offered some hotel-focused insight on getting involved in the Pinterest phenomenon.
When comparing social media sites, it's important to realize that while users turn to sites like Facebook and Twitter to communicate with people, Pinterest users are more inclined to connect over things. They usually "pin" images of desired products or inspired ideas and are more likely to have a shopping frame of mind. Pinterest is the ideal social media platform for a hotel since its "pinboard" and various "pinned" images allow viewers to visualize staying at the hotel.
Still, Pinterest frowns upon brands displaying aggressive sales tactics. Instead, a hotel should pin photos that enhance its image, convey the overall experience, and define its personality and philosophy. This is extremely well suited to the hospitality industry, since marketing strategies are often based on promoting the hotel experience. In addition, the visual orientation of expressing a message through images allows for attributes and features to be immediately conveyed and lets viewers picture themselves at the hotel.
Regardless of the marketing platform, hotels must first develop a strategy before jumping into any form of social media. Pinterest images must be carefully selected to ensure the proper messaging and optimal response. Hospitality brands need to know that Pinterest permits them to have multiple pages, which enables them to focus on diverse hotel experiences that target specific interests. The following guidelines should help various segments of the hospitality industry "pin" to their fullest potential.
1. The Look for Leisure Travel – As a general rule, hotels should feature approximately twice as many images of the destination than of the actual property. This allows viewers to focus on the vacation experience and avoid the sense of simply looking through another hotel brochure. Pinterest's primarily female audience represents the primary decision-makers in matters of travel and allows hotels to appeal to women's desires for escape and value. It's also essential to pin enticing images that appeal to all ages, family sizes, and interests.
2. The 'Wow Factor' for Weddings – Pinterest is a favorite among brides and is radically changing the wedding industry as we know it. To appeal to this major market, wedding vendors and planners should pin images of the hotel's special details that make a difference. Any hotel can show a ballroom, but pinning photos of the little details can differentiate a unique place setting or service and be extremely appealing. The pinned images can convey a sense of style, ease, and joy since these are what every bride wants on her wedding day.
3. The Musts for Meetings – Just as with weddings, meeting planners should focus on the details and pin images that show how the hotel creates a memorable experience for meeting attendees. Every element of the event can be pinned, such as photos of the hotel's special banquet menus or people taking part in team-oriented activities.
4. The Requirements for Restaurants and Bars – Only pin images that distinguish the hotel's experience from all others, such as menu specialties, drink promotions, or unique décor. Anything that makes the hotel special deserves to be pinned and promoted. If your hotel is historic, pin an image of the original property.
It's clear that Pinterest is the perfect forum for all types of hotels because it speaks to the specialized consumers and leverages the sense of experience that drives the marketing of the entire hospitality industry.
To learn how to leverage Pinterest for success with your hotel's social media marketing strategy, contact MDG.
At MDG, our 360° marketing approach uses just the right mix of traditional and online media to reach your hospitality marketing goals. While some industries may fare better in print and others on Pinterest, we strive to create a balanced approach where digital and traditional marketing efforts support each other and your marketing message is tailored to the medium. To stay on top of the latest trends that will make an impact for your hotel, contact MDG.