TikTok 101: Understanding the Rapidly Growing Social Network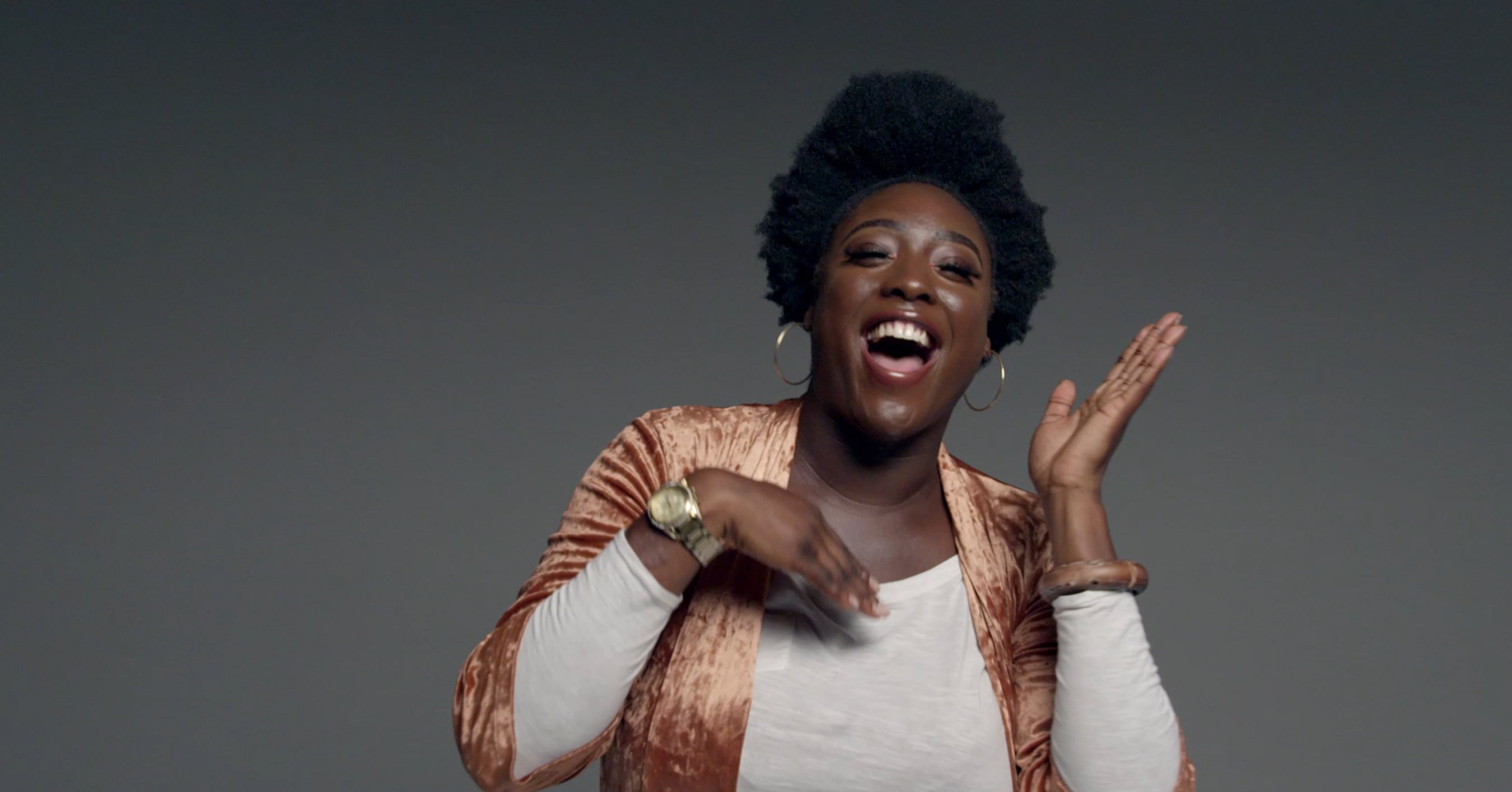 As in life, the only constant with social media is change. Just as marketers were starting to feel comfortable with the current landscape, along has come a fresh, rapidly rising network: TikTok.
As eMarketer recently put it: "Not since Snapchat has any app shown as much potential as TikTok to disrupt the existing social media world order."
In an in-depth profile of the app—titled "How TikTok Is Rewriting the World"—The New York Times was just as effusive, stating: "TikTok will change the way your social media works—even if you're avoiding it."
What's the big deal? What exactly is TikTok? How popular is it? What's driving its growth? Is it truly transformative or just a passing fad?
Here's what marketers need to know:
What Is TikTok?
TikTok calls itself "the world's leading destination for short-form mobile videos"—which is a good starting point for understanding the platform.
Essentially, TikTok is an app that enables users to create, share, and react to videos that are up to 15 seconds long. The platform also allows people to thread videos together and to share longer videos imported into the app.
TikTok is similar to Snapchat and the Instagram/Facebook/WhatsApp stories format in that content is vertically oriented (since it's mobile-first) and that AR/visual layers can be added. It's more similar to a traditional Instagram/Twitter/Facebook account, since pieces don't automatically disappear.
TikTok was originally launched in 2016 in China under the name "Douyin" (which is what it's still called there), and started taking off in the US after it merged with popular app Musica.ly in 2017.
The Musica.ly connection is key to understanding the TikTok platform. That app was based on users posting short lip-synch videos and was built around community members tackling trending songs, having back-and-forth collaborations, and creatively adding their own twists via things like editing and layers.
Many of those same elements—music, community focus, trending challenges centered around hashtags, humor, finding fresh ways to present videos—are what members love about the current TikTok platform.
How Popular Is TikTok?
Determining the usage of TikTok is a bit difficult since numbers for the Chinese version of the app (Douyin) are unavailable. What's clear is that even if you exclude China, the app is massively popular. According to Sensor Tower data, as cited by eMarketer, the app has been downloaded more than 1 billion times.
Sensor Tower estimates that there were 663 million downloads of TikTok in 2018, which means that it was downloaded more times last year than Instagram (444 million). Again, that's excluding most downloads of the Chinese version of the app.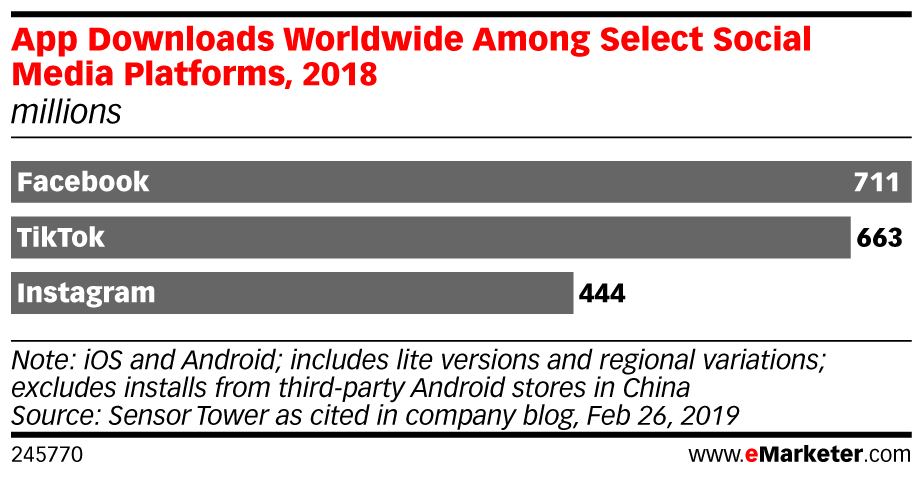 The app isn't just widely downloaded, it's also heavily utilized. According to Apptopia data, as cited by eMarketer, TikTok has more than 250 million active monthly users (again, excluding most Chinese users). This compares with around 298 million monthly active users for Snapchat.
What's Driving TikTok's Rise?
TikTok is very much like YouTube in that it has a low barrier to entry and is structured in a way that makes it very easy to move from one video to another.
There's no requirement to create an account to view content on the platform—you can just dive right in—and transitioning from piece to piece, whether from multiple TikTokers or within the same account, simply requires swiping.
Moreover, the music-centric and challenge-centric nature of TikTok make the content both targeted and universal. Popular hashtags sprout up around a huge range of topics—from Bollywood and bachata to parkour and pets—and the fun, quick nature of the these is appealing to both specific audiences and the wider TikTok community.
Also, it's important to note that the powerful AI and machine learning that underlie the platform make its "For You" recommendations very effective. As with a number of platforms these days, the more someone uses it, the more likely it is that the app will deliver highly relevant content.
Just how engaging is the app? According to Comscore Mobile Metrics data, as cited by eMarketer, social media users in the UK spend more time each month on TikTok than on any platform aside from Facebook.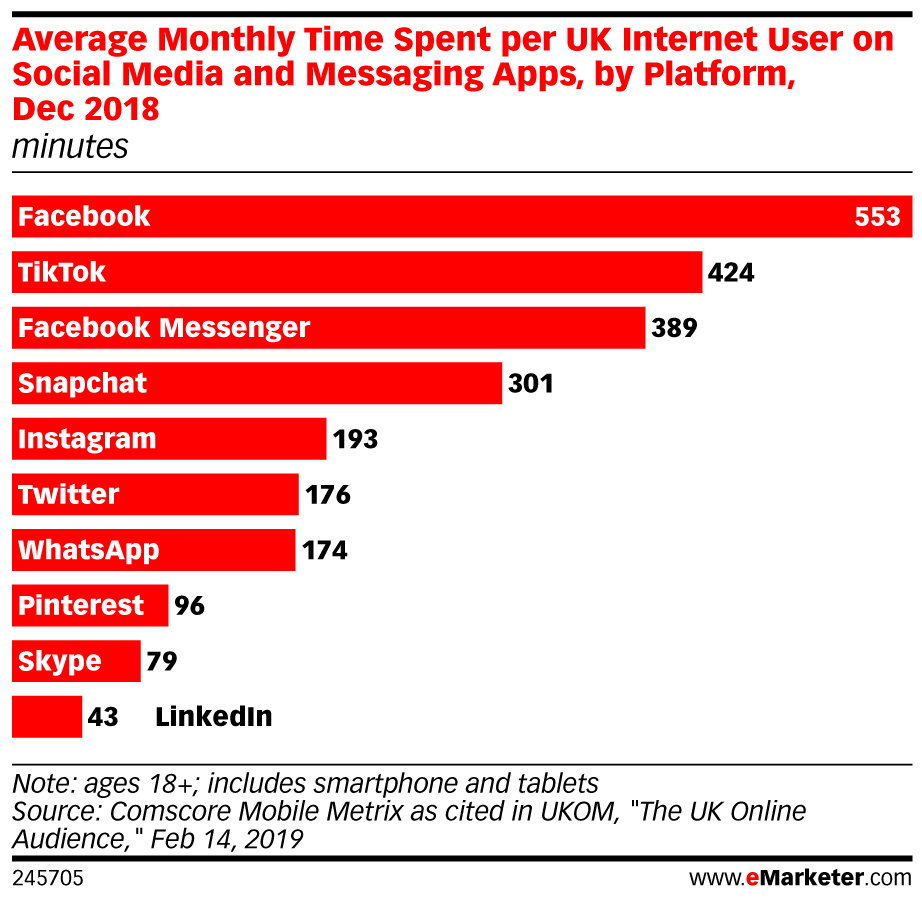 How Can Brands Engage on TikTok? Does It Have Advertising?
TikTok is in a similar position as Instagram or Snapchat were a few years ago: it's massively popular, but has yet to scale its advertising offerings to match.
That's not to say that the platform has no ads. Units do appear, usually when a user opens the app. As Digiday reported, this pre-roll approach is still being refined and most current campaigns are related to pushing downloads (such as this Grubhub ad).
Think this is the first real ad campaign I've seen on @tiktok_us. @kerrymflynn pic.twitter.com/zt3JcSYCz0

— chris harihar (@chrisharihar) January 26, 2019
So far, brands have mostly engaged on TikTok by creating challenges. An example is the #InMyDenim effort launched by Guess last fall. The challenge involved TikTok users doing quick cuts in their videos to show how the brand's clothing could instantly transform someone from schlubby to chic. To ensure success, Guess partnered with the platform to have the hashtag featured prominently and paid TikTok influencers such as @ourfire to create pieces.
Is TikTok Here to Stay or Is It Just a Passing Fad?
Is TikTok here to stay? Is it a Facebook or is it a Friendster?
Right now, it's unclear. The app certainly is having a moment: by any measure—downloads, content uploads, time spent—TikTok is thriving. It has a huge user base, a large roster of influencers, and ever-growing interest from advertisers.
But it's also starting to experience some serious growing pains. In India, Google and Apple recently had to pull TikTok from their app stores after the country's High Court ruled that it was exposing people to pornography and children to sexual predators. It turns out that some of the things that have fueled the app's rapid rise—such a very young audience and little-to-no vetting for accounts—are double-edged swords. In the near future, the company will have to carefully add more oversight without ruining the open, youthful feel of the platform.
On top of that, networks such as Instagram and YouTube have seen what's working for TikTok and are increasingly adding elements from the app to their own platforms. As Snapchat learned with its stories format, it's remarkably easy for established social networks to copy successful features from a new entrant to the market and stunt its growth.
TikTok could very well navigate these challenges skillfully and grow even more popular—only time will tell. What's clear is that the core format of the platform—mobile-focused, short-form video—is exactly what audiences want right now.
According to iResearch Consulting Group data, as cited by eMarketer, marketing spend in China on short-form video platforms is expected to jump by 134% this year and an additional 71% next year.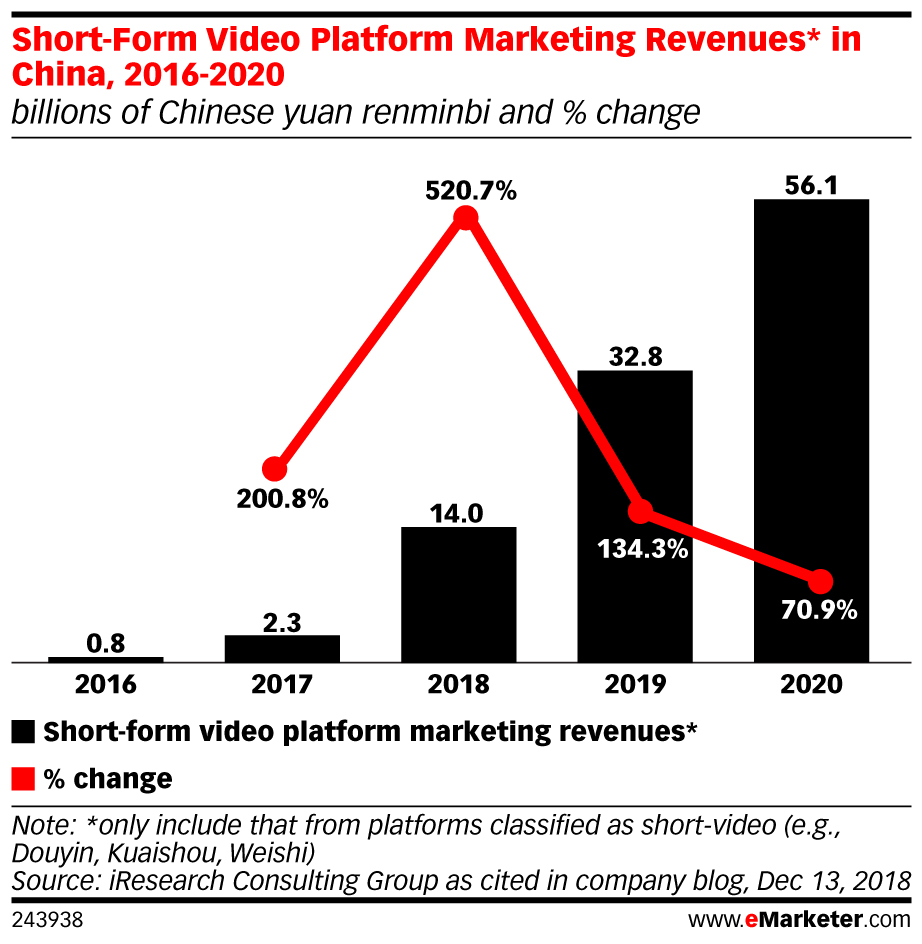 This appetite for social short-form video is likely to grow at similar rates across the globe. So, ultimately, while TikTok itself may or may not succeed, in the coming years marketers should play extremely close attention to the content trends it has helped to spark.
Keep current with the newest trends in social media marketing. Contact MDG today at 561-338-7797 or visit www.mdgsolutions.com.
MDG, a full-service advertising agency with offices in Boca Raton and Brooklyn, NY, is one of Florida's top branding firms. MDG's capabilities include branding, logo design, creative, print advertising, direct mail marketing, media buying and planning, radio and TV advertising, outdoor, newspaper, digital marketing, website design and development, online video advertising, infographic development, email marketing, video marketing, mobile marketing, content marketing, social media marketing, paid search marketing, and SEO. To learn about the latest trends in advertising and branding, contact MDG today at 561-338-7797 or visit www.mdgsolutions.com.