Top 10 Trade Show Exhibiting Musts and Mistakes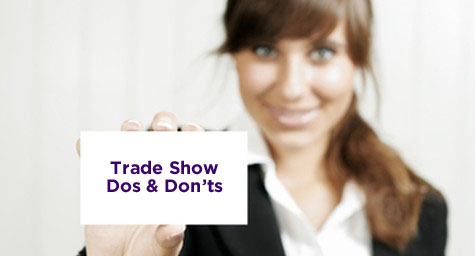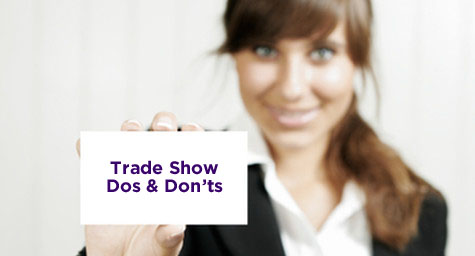 Trade show success demands so much more than just exhibiting at an event. There are definite dos and don'ts to every step of the trade shows process and it can take lots of trial and error to determine the right and wrong ways to work a show. While experience is the best teacher, it is also helpful to get advice from the pros who know. SkylineTradeShowTips.com featured these five exhibiting essentials and five errors to always avoid.
Must #1 – Marketers must always establish specific show objectives that will define their success. Without a clear understanding of what constitutes a strong showing, it's impossible to know if the work was really worth it.
Must #2 – It's vital to figure out how ROI is going to be measured since most corporate executives make the bottom line their top priority. It can be costly to travel the trade show circuit, so it's necessary to justify the value and expense of exhibiting.
Must #3 – Trade show marketing takes plenty of intelligent planning and pre-show promotion in order to position the booth as a must-visit destination for attendees.
Must #4 – It's also important for booth staff to be properly trained. They need to be well equipped with the means, methods, and mindset to excel in every trade show situation.
Must #5 – Be sure to follow up with every single prospect in a very timely manner. The trade show floor is an extremely competitive playing field and the fastest follow-up will often secure the sale.
Following these five must-dos will make your trade show experience positive and productive, but be sure to avoid the following five most serious slip-ups and stumbles:
Mistake #1 – Not being completely engrossed in the trade show process and only exhibiting because it's expected. Trade shows take a lot of dedication and perspiration, so not going all-in is an all-out bad move.
Mistake #2 – Designing the trade show display for vanity instead of value. Don't just highlight things that glorify the brand, but thoughtfully position each element in a way that speak to the needs, interests and goals of show attendees.
Mistake #3 – Mindlessly collecting business cards in the name of networking, which can easily be done online. Instead, strive to personally connect with every lead and make your interactions truly memorable.
Mistake #4 – Sitting back and just watching the show go by. Be proactive and aggressive to meet, greet, connect, and keep up with everyone at the show.
Mistake #5 – Ignoring the trade show leads for months. Letting your leads grow cold and old completely nullifies the value of exhibiting at the show.
Learn how to make the most of your trade show marketing experience. Contact MDG.
MDG, a full-service advertising agency with offices in Boca Raton and New York, NY, is one of Florida's top creative ad agencies. Our 360° integrated approach uses just the right mix of traditional and digital marketing to reach your advertising goals. MDG's core capabilities include print advertising, branding, logo design, creative, digital marketing, media planning and buying, radio and TV advertising, outdoor advertising, trade show marketing, Web design and development, email marketing, social media marketing, and SEO. To stay on top of the latest trends in marketing and advertising, contact MDG.
Read more at Skyline.