Top 12 Web Design Trends to Look for in 2014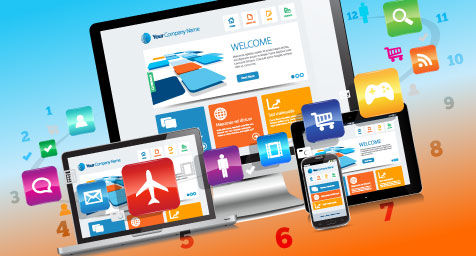 The dynamic nature of Web design is reflected in its rapid evolution. New trends, times, and technology drive the design of digital layouts and continually change the online experience. For a peek at the Web trends taking 2014, check out a dozen design predictions from eConsultancy.com.
1. The Future is Flat – Clean is the theme of 2014 as flat UI continues to grow. The trend was triggered by Windows 8 and followed by Apple's iOS7 and now the design of the day is more flat than fancy.
2. Mobile Must Be a Priority – The explosion of smartphone and tablet usage in recent years has mobile on track to take over desktop traffic for many websites. As a result of this mobile momentum, designers must rethink and revise the user experience for these smaller screens. Adapting to a more mobile-minded digital design can keep companies ahead of the competition and at the head of innovation.
3. Scrolling is on a Roll – In recent years, scrolling has gotten much more attention. In addition to being very easy for designers to execute, scrolling is a must on mobile and tablet devices so designers have strived to make swiping simple. Expect to see more horizontal scrolling, parallax scrolling, infinite scrolling, and column-based scrolling throughout the year and moving forward.
4. Text Takes a Backseat – Today, text has taken on much lesser importance and some websites have totally traded text for bold images and icons that visually convey content to users. Sometimes this works, but other times it only causes confusion and leaves users at a loss for words.
5. Navigation Gets Narrowed – The need to design for the smaller-sized screens of mobile devices is driving the trend toward stripped-down navigation. Expect the focus to shift toward icons, rolldowns, and navigation that condenses as users scroll down the page.
6. Backdrops Liven Up – Expect more brands to start dabbling with dynamic backgrounds in 2014. Content sites may remain more conservative in style, but brands will start brining their backgrounds to the forefront.
7. Content Gets More Compelling – In 2014, online content will become much richer and more engaging by integrating text, images, interactive features, video, and scrolling into a synergistic experience.
8. One and Done – Watch for more and more websites to start making the most of one page. By presenting additional content and  strategically positioning graphics onto a single page, this can reduce the number of clicks in the user experience and keep the user engaged on the page.
9. Many Types of Type – Typography is taking on a whole new meaning as designers start mixing, matching, and magnifying more font sizes than ever. Responsive typography is another trend to anticipate in the coming year.
10. Tiles Take Over the Look of Layouts – Tiles and content cards offer visual instant gratification by conveying an abundance of content in a single glance. The trend has been taking shape over the year but now it should start taking over the Web.
11. The Big Picture – Look for larger pictures and bigger background images in the coming year as Web designers start favoring them to add visual interest and intrigue.
12. A Focus on Fixed Position Navigation – In the world of Web design, fixed position navigation is the high-tech term for navigation that remains on the page as users scroll down. This trend is currently common on newer websites and should spread to others in the coming year.
Keep up with the latest in Web design trends for 2014. Contact MDG today at 561-338-7797 or visit www.mdgsolutions.com.
MDG is a full-service advertising agency and one of Florida's top design firms. With offices in Boca Raton and New York City, MDG's core capabilities include branding, logo design, print advertising, digital marketing, mobile marketing, email marketing, media planning and buying, TV and radio, outdoor advertising, newspaper, video marketing, Web design and development, content marketing, mobile marketing, social media marketing, and SEO. To stay on top of the latest Web design trends, contact MDG today at 561-338-7797.