Travel and Hospitality Content Takes Flight on YouTube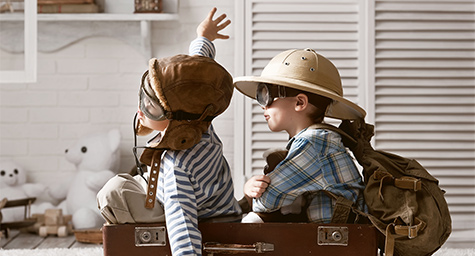 What's the hottest travel destination right now? Very possibly it's YouTube.
According to a recent analysis, two out of three U.S. consumers watch online travel videos when they're thinking about taking a trip, and the first stop for this type of content is often YouTube. In fact, the study found views of travel-related content on the video platform were up 118% last year.
The report was conducted by Ipsos MediaCT and Google, which owns YouTube, so there is clearly a vested interest in publicizing the data. Still, the numbers are impressive, and they're essential to note for anyone in the travel and hospitality industries.
Some key findings include:
Subscriptions to top travel channels on YouTube increased 106% year-over-year.
Views of travel-related branded videos were up 394% year-over-year in 2013.
Mobile devices accounted for roughly 30% of all travel video views on YouTube last year, with mobile viewing up 97% on smartphones and 205% on tablets year-over-year.
Across devices—desktop and mobile—travelers are consuming travel-related videos around the clock. Nearly half are viewed during prime time (3:00–10:00 p.m. PST).
50% of subscribers to travel-related channels are aged 25 to 64, while 38% fall in the age range of 18 to 24.
So what types of content are people watching? Nearly three-quarters (67%) of travel-related views go to videos made by brands/professionals, such as the Disney piece embedded above featuring the surly feline Internet star Grumpy Cat.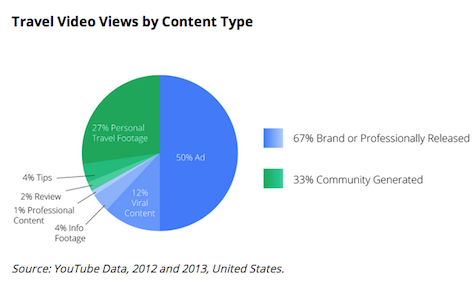 The analysis found potential travelers are currently coming to YouTube mainly to watch videos about tourist destinations and attractions (40% of the total travel views).
The largest growth in views has come in the cruises and charters category (up 262% year-over-year in 2013), thanks to increased production by major lines such as Carnival Cruise Lines, Viking River Cruises, and Princess Cruises.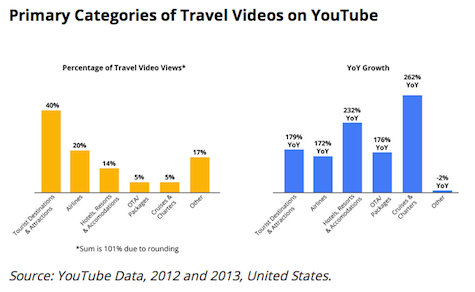 In terms of subscriptions to travel-related channels, nearly half (48%) are to vlogs (video blogs) that feature personal travel experiences.
Moreover, travel vlogs were found to receive 4x more social engagement (likes, comments, shares, favorites, and subscriptions) than other types of travel content on YouTube.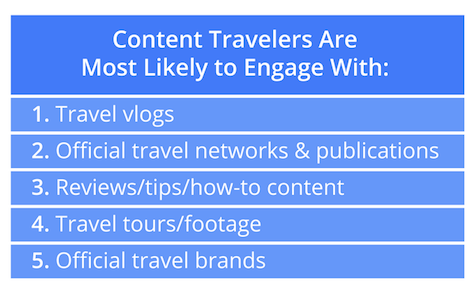 When it comes to travel videos that have gone viral (defined in the report as content that is not overly transactional and that has generated 500,000+ views), airline companies account for more than three-quarters (76%) of all views.
Top performers include Turkish Airlines' Kobe vs. Messi series, Virgin America's #VXSafetyDance and WestJet's Christmas Miracle: Real-Time Giving.
A key thing to note is that having a video go viral is by no means essential for success in the travel and hospitality space on YouTube anymore. Increasingly, consumers are turning to the platform for their day-to-day travel planning needs, using it as a utility tool to find out more about destinations and gain insights from other individuals.
It's likely that this increase in views will only accelerate as brands and travelers contribute more and more content to the platform, meaning that YouTube may be a very hot travel destination for years to come.
Learn how online travel videos on YouTube can boost your hospitality marketing success. Contact MDG today at 561-338-7797 or visit www.mdgsolutions.com.
MDG, a full-service advertising agency with offices in Boca Raton and New York, NY, is one of Florida's top hospitality marketing companies and branding firms. MDG's core capabilities include advertising, branding, logo design, creative, infographic development, digital marketing, creative media planning and buying, radio and TV advertising, Web design and development, email marketing, content marketing, social media marketing, and SEO. To stay on top of the latest trends in hospitality marketing and advertising, contact MDG today at 561-338-7797.