Travel and Tourism Marketing: Branding Delray's New Seagate Hotel and Spa
Branding Delray's New Seagate Hotel and Spa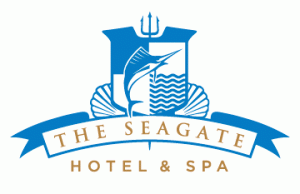 Some would think it's a challenge to turn a timeless image into a trendy icon, but not MDG. We recently worked our magic on The Seagate Hotel & Spa, a brand-new beachfront boutique hotel in Delray Beach, Florida that's risen from the distinguished heritage of The Seagate Beach Club. Our goal was to develop a brand that had the contemporary allure of the new cosmopolitan hotel while recalling the historic prestige of the Seagate name.
The strategy and brand development were critical because so many components needed to be created so quickly. Besides the hotel and spa, we also developed names and identities for the restaurant, shops and café.  "It was the kind of design project that creatives dream about. There were more than 100 items that had to be designed, from an environmental graphics/signage program, to the room key itself," said Michael Del Gigante, executive creative director and president of MDG.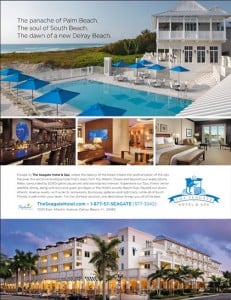 Click on image to enlarge.
Given The Seagate's location between the celebrated cities of Palm Beach and South Beach, our team's approach was to present The Seagate Hotel & Spa as the ideal escape between the extremes: the must-see and must-stay destination that provides oceanfront tranquility and the excitement of downtown, offering the best of both worlds in the charming resort town of Delray Beach, Florida.
We kicked off the pre-opening marketing efforts by developing a special Cultural Getaway package that includes admission for two to the Boca Raton Museum of Art and The Morikami Museum and Japanese Gardens with a two-night hotel stay in November or December.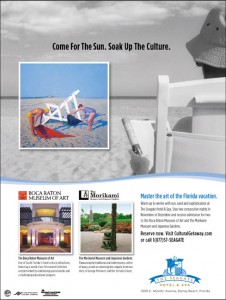 Click on image to enlarge.
The website, www.theseagatehotel.com was designed to be launched in stages so the addition of new content and photography could be easily integrated.
Join in the excitement surrounding the recent grand opening of the Seagate Hotel & Spa and check out our campaign that's making people check in. For more information on Delray's hottest vacation destination, visit www.theseagatehotel.com or stop by the hotel at 1000 East Atlantic Avenue, Delray Beach, FL
Michael Del Gigante is president and executive creative director of MDG in Boca Raton, Florida. MDG is a full-service advertising agency that specializes in developing targeted marketing solutions, exceptional creative executions and solid branding strategies that give clients a real competitive advantage. For more information, call 561-338-7797 or log on to www.mdgsolutions.com