Travel and Tourism Marketing: The Breakers Palm Beach Makes Fall More Fulfilling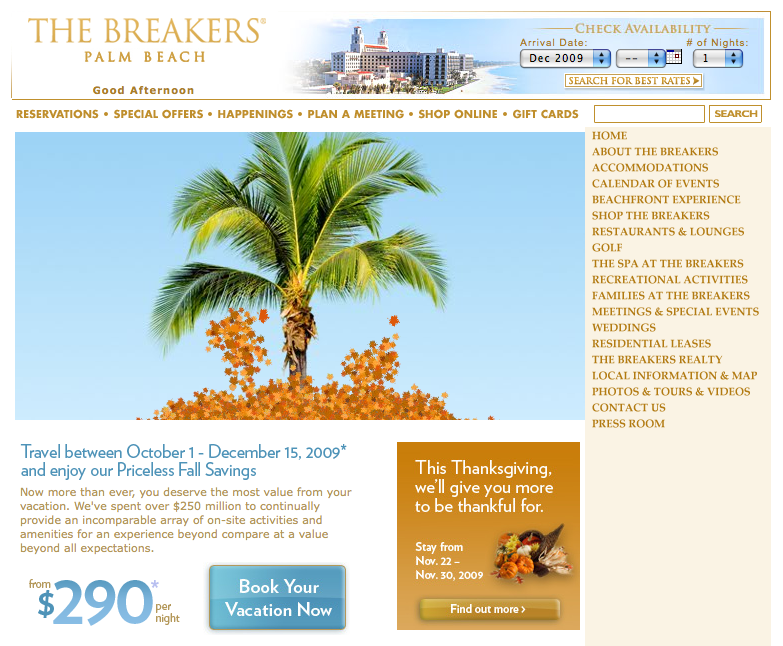 This summer, The Breakers Palm Beach, a legendary, multi-faceted resort on Palm Beach,  enjoyed great success due to their special "Spendless Summer Savings" promotion allowing guests to experience the best of The Breakers' amenities for FREE. This incentive was so worthwhile that the resort decided to extend the promotion through Fall and Thanksgiving, providing seasonal guests with the same complimentary privileges to deliver more value for their vacations.
Value was definitely a driving force behind the resort's remarkable summer success so The Breakers built upon their summer promotion to create a "Fall Into Paradise" offer which allows guests to enjoy their spectacular amenities for free. Once the offer was established, MDG went to work to promote the message through an online advertising campaign and dedicated microsites.
To visit the Fall microsite, click here.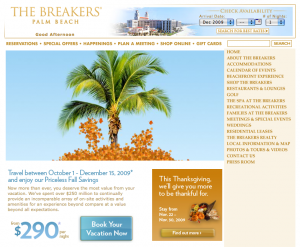 For the Fall campaign, our team developed the concept of "Priceless Fall Savings" to express how guests can enjoy the resort's amenities at no cost and receive the priceless gift of more value for their vacations.
With the Thanksgiving campaign, we emphasized making Thanksgiving a relaxing holiday for everyone through the value of free amenities and the enjoyment of a stress-free, carefree getaway. Similar to the Fall microsite, the Thanksgiving site boldly lists the complimentary amenities but with the addition of special holiday events and savings. Prominent links allow for simple booking and a banner appears for the Fall offer.
To visit the Thanksgiving microsite, click here.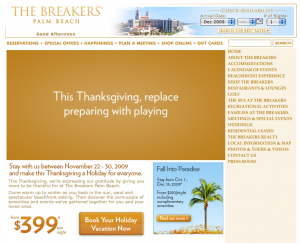 Now that Fall is in the air and these offers are in full swing, we look forward to helping The Breakers achieve another season in the sun.
For more information on The Breakers, visit www.thebreakers.com
Tim Alexander is the director of digital operations for MDG in Boca Raton, Florida, where he provides the strategic and experiential direction for our clients' interactive pursuits. For more information, call 561-338-7797 or log on to www.mdgsolutions.com