Travel Apps Being Discovered by a Growing American Audience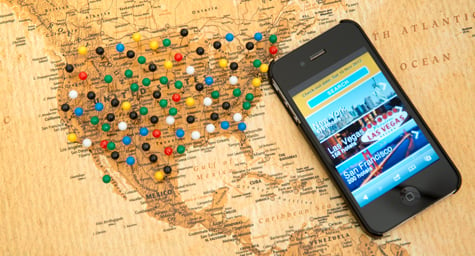 Today, mobile apps are saving people time, trouble, effort, and expense in their daily lives. From product research to price comparisons to total lifestyle management, apps are bringing convenience to traditionally tedious tasks. And brands have taken notice by developing mobile apps that respond to their audience's needs. Apps have become especially popular in travel as more and more travelers are discovering how travel apps can cater to their every need. From planning trip itineraries to finding deals on transportation and booking accommodations, travelers are turning to travel apps for their convenience, insight, and value. Discover the reasons why travel apps have become valuable destinations en route to planning travel.
Travelers Making Room for Travel Apps
For the last few years, a growing number of travelers have turned to mobile apps to enhance their travel experiences. What started as a convenient way to book travel has now evolved into apps being used for every step of the travel-planning process. A Google study found that apps served as a source of travel inspiration, with 42% of travelers checking travel review apps and 31% looking at specific destination apps to inspire their future trips. And more than half of travelers used a hotel's app to review and reserve a property.
The study also showed that many travelers prefer using travel apps to navigating a mobile website for a variety of reasons. They find mobile apps to be:
Faster and easier to book than on mobile sites.
Meeting travel needs better than mobile websites.
Easing access to personal rewards or loyalty membership with a brand.
Offering peer recommendations instead of just branded content.
Providing a better user experience after poor mobile website encounters.
All of these factors are driving a growing number of travelers to download mobile travel apps for their travel needs.
App Visits Getting Longer
In addition to an increase in app downloads, there's been a jump in the amount of time that people spend on apps. According to Nielsen.com, the average time spent on apps per person continues to rise each year. At the end of 2015, the average time spent on an app jumped to an hour and a half, which is twice as much time as users spent on apps in 2012. And there seems to be little difference in app time between women and men, with women spending only slightly more time on apps.
And if you think app time doesn't matter, think again. The more time that people spend on an app makes them more likely to buy from a brand. Plus, visitor time determines how a brand sets its online ad rates, so more visitor time on an app can result in more ad revenue.
Travel App Time Arrives at Highest Industry Increase
While apps continue to be developed for every possible industry, Nielsen research showed that travel apps experienced a greater increase in the amount of time spent on apps than all other industries in 2015. The results revealed that people spent 40% more time on travel apps for an average of two hours and three minutes per person. This was 35 more minutes of app time than in the prior year.
A part of this increase can be attributed to Millennials, who have been rapidly making up a larger share of the travel market. Even though these young adults chose to visit fewer apps, they spent more time exploring the few apps they did select.
The Move Beyond Traditional Travel Apps to Mobile Text and Messaging Apps
According to a new travel report by Phocuswright called "Chat, Shop, Buy: Messaging as the New Traveler Medium," there was a substantial rise in the use of mobile messaging and text apps by travelers in 2015. It appears that travelers are flocking to messaging and text apps because they offer so much convenience in travel research, booking, and sharing trip experiences. This increase is being driven by both mobile-minded Millennials and adults from ages 35 to 44. The report found that almost 50% of U.S. travelers used text messaging, while more than one-third used chat apps, to share their personal travel experiences in 2015. This usage is considerably higher than in previous years.
Travelers also appreciate the way that mobile messaging apps allow them to express their preferences and feedback directly to travel brands in a friendly, chat-based format. With the current industry focus on providing personal customer service and on-demand support, travel brands can greatly improve both their traveler relations and relationships by developing user-friendly mobile messaging apps.
5 Travel Apps Staying Ahead of the Pack
When developing any type of mobile app, a brand needs to think like a user and design its app to accommodate all of a user's needs. This is especially true in the travel industry where the emphasis is on enhancing the travel experience. While new travel apps continue to pop up, Skift.com has tried and tested most of them and found five that have raised the bar for convenience, service, and value. These apps should serve as inspiration for travel brands that are developing, refreshing, or optimizing their apps:
Airbnb has soared with the rise of the sharing economy. It's popular with Millennials looking for more unique and affordable accommodations than standard hotels and resorts. Not surprisingly, its app is just as friendly and convenient as its signature service. The app is full of information displayed in a user-friendly format. It balances its "live like a local" positioning with excellent expert recommendations and a personal feel that fits perfectly in its mobile context.
This app helps travelers explore their way through their travel destinations. It makes it easy to find and filter travel routes based on personal preferences. A recent refresh of the app lets users get citywide perspectives on transportation systems with timely notifications of delays. As a result, it's ideal for both new visitors and commuters.
Convenience is the cornerstone of this app, which serves as both a hub and gentle reminder for all of a traveler's airline itineraries. It's also compatible with other travel apps and can access travel itineraries from a person's email with ease.
This time-saving app helps travelers quickly locate discount airfares for their favorite cities. It allows users to save a list of future destinations and alerts them when a valuable deal appears. It also seamlessly blends timely editorial and branded content that's continually updated with current prices. It differs from transactional travel apps by focusing on the travel experience, which strongly resonates with the mobile and social mindset of its large Millennial audience.
The hospitality brand's mobile app is far ahead of it competitors for many different reasons. For one, it lets guests save their personal preferences into a global database so they're easily accessible at all of the brand's properties. Secondly, it lets guests easily make requests regarding room specifications, schedule spa visits, order room service, and communicate with hotel staff with the tap of an icon. Finally, the app lets guests check into and out of their rooms with ease to save time and trouble.
Travel apps have become a necessity for many travelers today and the demand is only expected to grow. Travel brands should take this opportunity to conveniently connect with travelers by developing travel apps that help them pack up a better travel experience.
Discover how travel apps click with consumers and brands. Contact MDG.
MDG, a full-service advertising agency with offices in Boca Raton and New York, NY, is one of Florida's top hospitality marketing companies and branding firms. MDG's core capabilities include advertising, branding, logo design, creative, infographic development, digital marketing, creative media planning and buying, radio and TV advertising, website design and development, email marketing, mobile marketing, content marketing, social media marketing, and SEO. To stay on top of the latest trends in travel marketing and advertising, contact MDG.