Travel the Globe, One Noodle at a Time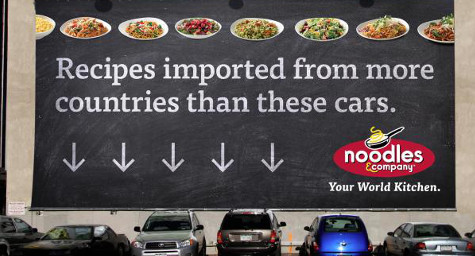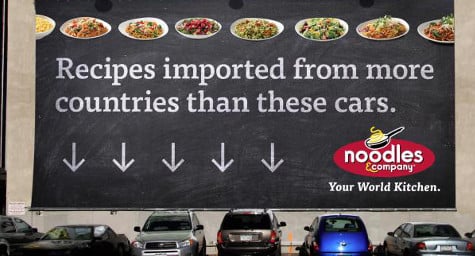 With a clever and creative branding campaign, fast-casual restaurant Noodles & Company is showcasing the global diversity of its menu. Using its "Your World Kitchen" tagline, the company launched the new campaign in Denver, Kansas City, Austin, San Diego, and Sacramento, with a national rollout of the campaign to follow. Amy Corr of MediaPost reported on the company's unique creative approach.
The campaign, created by TDA_Boulder, was spread across outdoor, newspaper, radio, and online media, with outdoor advertising as the main focus. One billboard in Austin displayed three clocks, for three different time zones—in Japan, Italy, and Austin. Although the locations are far apart, each of the clocks displayed an identical time; a smart execution that let consumers know that Italian pasta and Japanese noodles were available in their own Austin time zone. Another outdoor ad, in a parking lot in Denver, featured five arrows pointing to the cars below. The headline read, "Recipes imported from more countries than these cars.
The newspaper advertising was equally creative. The Kansas City Star was delivered to home subscribers wrapped in a polybag that had copy written on it in a foreign language. For a three-week period, subscribers received their papers enclosed a polybag, with a message written in Italian the first week, Japanese the second week, and Thai the third week. On the opposite side of the bag, the copy read, "Travel the world without leaving your table." 400,000 polybags were circulated throughout Kansas City in one month.
With a campaign as diverse as their menu, Noodles & Company has expressed that great ethnic food is available in one place, anytime, and that it includes more than just noodles. World travel needed for delicious global cuisine? Not required.
To learn more about the latest trends in restaurant marketing, contact MDG today at 561-338-7797, or visit www.mdgsolutions.com.
MDG is a full-service advertising agency and one of Florida's top creative ad agencies. With offices in Boca Raton, FL and New York, NY, MDG specializes in developing integrated 360° marketing strategies that give clients a competitive advantage. Our core capabilities include branding, logo design, digital marketing, print advertising, mobile marketing, email marketing, media planning and buying, TV and radio, outdoor, newspaper, video ads, Web design and development, content marketing, social media marketing, and SEO. To stay on top of the latest trends in marketing and advertising, contact MDG today at 561-338-7797 or read more here about the latest restaurant industry trends.