Tumblr Distinguishes Itself with Creative Online Brand Advertising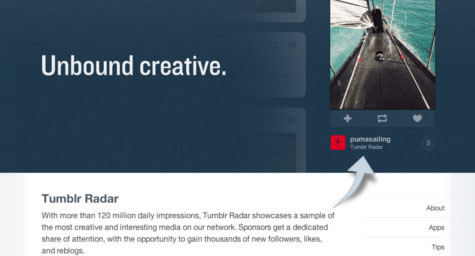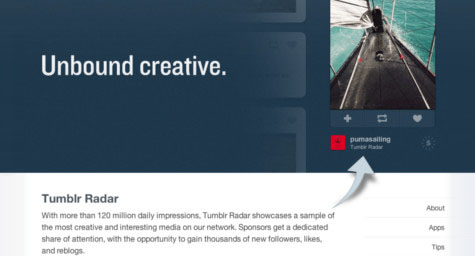 While Facebook, Google, and other online ad networks pump out a steady stream of Web banners and display ads, Tumblr is striving to breathe new life and fresh creativity into its online brand advertising. Adweek.com and DirectMarketingNews.com reported on how Tumblr is taking Web advertising in an inspired new direction.
"We do branding. The rest of the Web doesn't," said Tumblr CEO and founder David Karp.
Rather than relying on typical Web banners that create little intent, Mr. Karp is striving to make Tumblr a place where brands can use beautiful design and creative content to attract and attain customers. As a result, he's redefining digital brand advertising as we know it and giving Tumblr a competitive edge among online ad platforms.
Over the past year, Tumblr has offered only two online ad products. One is Spotlight, which lets brands promote their own Tumblr streams in their choice of categories. The other is Radar, which lets brands pay to promote Tumblr posts to a specific number of users. These ad products are meant to make brands treat Tumblr like a creative content producer instead of just another blogging platform that they can flood with conventional Web ads. This novel approach has been warmly embraced by brands, which have been steadily lining up to leverage this artistically driven concept.
"This industry is so bored of display, bored of blue links, so excited to create ads that win awards, that really tell stories…that people remember, that get people excited," Mr. Karp explained. "There aren't a lot of AdWords ads or display ads that you can put in a portfolio."
Mr. Karp's original vision when he launched Tumblr in 2007 was to unite the intriguing content of WordPress with the photo artistry of Flickr, the video stimulus of YouTube, and the real-time response of Twitter. He believed that combining those powerful entities would produce a truly worthwhile Web experience. Today, his vision has become a reality and Tumblr is now a virtual playground that enables brands and creators to exhibit their innovations to an audience hungry for original content.
"In the last few years what you've seen technology start to do is empower more creators to reach for whatever they have stars in their eyes for," added Mr. Karp. "Whether that's selling out shows, whether that's publishing a book, whether that's building an audience on the Web, creators now have more opportunity I think than they've ever had before."
Now, Tumblr is using technology as a means to market that creativity by funneling it into online brand advertising. While providing advertisers with a platform for promoting their products in a compelling and creative way, Tumblr is finally able to monetize the site and benefit along with both its advertising partners and online fans.
To learn more about integrating Tumblr into your online advertising and social media marketing strategy, contact MDG.
MDG, a full-service advertising agency with offices in Boca Raton and New York, NY, is one of Florida's top integrated marketing agencies. Our 360° approach uses just the right mix of traditional and digital marketing to reach your advertising goals. While some industries may fare better in print and others online, we strive to create a balanced approach, where traditional, social media, and digital marketing efforts support each other and your message is tailored to the medium. Our core capabilities include branding, logo design, creative, digital marketing, integrated media plans, award-winning print ads, radio and TV advertising, online brand advertising, Web design and development, email marketing, social media marketing, and SEO. View MDG's creative advertising portfolio.