TV or Not TV—The Rise of Digital Video Advertising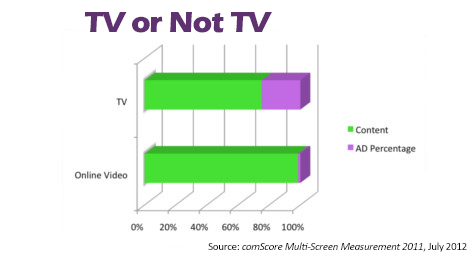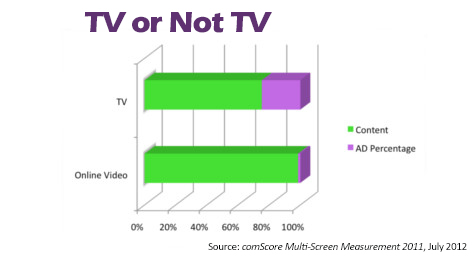 Today's tech-minded consumers have been spending more and more time in front of a digital screen than a television screen. This presents a problem to advertisers who are trying to maximize the reach, response, and ROI from their TV advertising budgets. MediaPost.com reported on how marketers are dealing with this digital dilemma.
According to the recent comScore Multi-Screen Measurement 2011 study, the trend toward online video began in 2006 as early adopters discovered how to integrate video into their online experiences. Soon, others began to follow their lead with the mainstream audience finally accepting video viewing in 2009. Over the past year, there has a major increase in online video viewing with 30 percent more Americans watching videos daily than last year. In addition, viewers now spend 47 percent more time each month watching online videos and the number of videos viewed monthly has increased by 20 percent.
With the rapidly growing engagement and reach of online video, it would be assumed that advertisers would be fighting for placements, but that couldn't be farther from the truth. Surprisingly, there are very few ads running during these videos. This March, ads made up only 1.5 percent of online video content, compared to ads comprising 25 percent of TV programming. Such disparity can be attributed to a few myths surrounding digital video advertising.
First, marketers are under the false impression that online ads are not as effective as TV ads. To disprove this myth and affirm the effectiveness of digital video advertising, the study analyzed the increase in sales following consumer exposure to ads in both online and TV formats. The results indicated that the short-term increase in sales from online ads was the same as the longer-term impact of TV ads. This showed that digital ads were very effective for generating short-term sales.
Another myth is that digital video ads should only be used after frequency and reach have been optimized through TV ads. Once again, the study disproved this theory and showed that online video can build reach and effective reach when advertising dollars are invested in both the TV and digital formats. In terms of cross-media campaign targeting, the results also displayed digital advertising's unique ability to reach target audiences online, which ultimately results in less waste from impressions delivered outside of the target market.
Overall, the study expressed that integrating digital elements into a TV advertising strategy can have many benefits. It can provide greater reach and frequency, especially with the target audience who are extending their TV viewing to the digital video realm. It can also boost the effective reach of the campaign with enormous efficiency, as well as affect brand preference among Millennials. These are major advantages that marketers cannot afford to ignore. Fortunately, it appears that advertisers can have the best of both worlds by taking advantage of both TV and digital video advertising.
Leverage the power of both TV and digital video advertising in your 2013 marketing plan. Contact MDG today  at 561-338-7797, or visit www.mdgsolutions.com.
MDG, a full-service Florida advertising agency with offices in Boca Raton and New York, NY, specializes in developing targeted Internet marketing solutions, exceptional creative executions and solid branding and media buying strategies that give clients a competitive advantage. Our core capabilities include branding, logo design, creative, digital advertising, print advertising, media planning and buying, radio and TV advertising, video advertising, Web design and development, email marketing, social media marketing and SEO.
Read more at MediaPost.com.