Tweeters Treated to the First Twitter Experience Hotel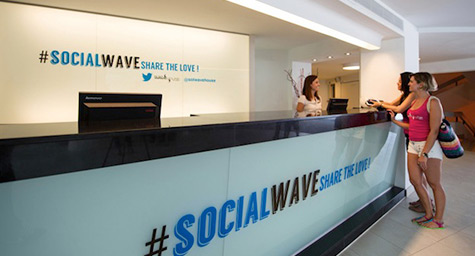 While most people vacationing in Majorca try to do no work, now there's a hotel for those who want to network. Spain's idyllic island is home to the Sol Wave House, where the guest experience revolves around tweets, hashtags, and networking. PSFK.com profiled the high-tech hotel to show why the digital destination has social seekers all atwitter.
Making its mark as the "first Twitter experience hotel," the year-old Sol Wave House integrates social media into every aspect and amenity of the guest's visit. These include social-centric guest rooms, Twitter concierge assistance by hashtag, and an online community called #SocialWave where guests can tweet and meet each other.
The #SocialWave community is exclusive to guests and can only be joined by logging onto Twitter through a special app on the hotel's WiFi. Becoming part of the #SocialWave community lets guests see who else is online, learn where new friends are hanging out, tweet private messages, share photos, and send virtual kisses.
The community is designed to be an enjoyable and interactive way to enhance the hotel experience by making it easier for guests to do the social sharing they love to do.
In addition to the online community, the Sol Wave House infuses Twitter into its many fun features. Guests can first go to the #TwitterPoolParty on Fridays and treat themselves to Twitter-themed cocktails. Then they can hang out with their new social circle in a Twitter Party Suite, where up to four guests can party amidst bright blue balloons, hashtag licorice, and a mirror that prompts tweet-worthy moments. Later, they can get food by the pool by simply tweeting their order to @SolWaveHouse.
At the Sol Wave House, social seekers can engage in a truly virtual vacation.
Keep up with the latest on the social media scene. Contact MDG.
MDG is a full-service advertising agency and one of Florida's top creative ad agencies. With offices in Boca Raton and New York City, MDG's core capabilities include branding, logo design, print advertising, digital marketing, mobile marketing, email marketing, media planning and buying, TV and radio, outdoor advertising, newspaper, video marketing, Web design and development, content marketing, mobile marketing, social media marketing, and SEO. To stay on top of the latest trends in marketing and advertising, contact MDG. To discover more about how social media communities can experience a shared sense of social support and solidarity, check out "Twitter Users Demonstrate "Tribe" Tendencies."