Twitter Channels Television into Interactive Social TV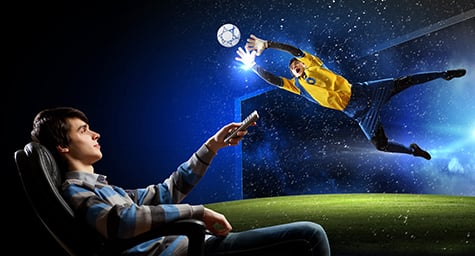 The simultaneous practice of watching TV while communicating with other viewers about the shows being seen via social media has evolved into the massive media mash-up called social TV. It has turned traditional TV viewing into an interactive experience that lets viewers connect with friends, fellow fans, and content creators to share about shows they watch. Social TV has become so big that it's led to the launch of the Nielsen Twitter TV Ratings to track the tweets about TV. And now Nielsen's released a new report with the demographic details about how social TV is rating with viewers. MediaPost.com broadcast highlights from both the report and the last season in social TV.
According to the report, 36 million people sent a total of 990 million tweets about TV in the U.S. in 2013.
The report reviewed 273 broadcast and cable program episodes and found the following three trends:
There is broad gender and age distribution across all programming.
There are major differences in the gender and age profiles of the people who tweet across all programming types.
Most importantly, Twitter is the virtual vehicle that allows TV networks and advertisers to reach audiences far beyond their core demographics.
In the first trend, about demographic distribution, men tend to tweet much more about sports shows than other programming. Men sent almost 90% of the tweets during basketball games, but only about 20% of the tweets during broadcast comedies and reality shows. Apparently, it's women who are tuning in and tweeting about TV dramas, comedies, and reality shows. And since women tend to be the primary decision-makers for household purchases, Twitter is clearly a very valuable way to reach these female followers.
For the second trend, the report revealed that the coveted audience under age 35 was strongly skewed toward certain programs. These younger viewers comprised more than 90% of the tweets about broadcast specials and cable sports like basketball and boxing. Yet they only sent about 40% of the tweets for broadcast comedies and cable sports like racing and horseracing. This is important information for advertisers who target these Millennial viewers because it shows the types of shows that are best used by brands to reach them.
And the most significant trend for TV networks and advertisers is the reach of tweets beyond their basic audience. During broadcast dramas, which are traditionally watched by women, 14% of the tweets were sent by male viewers and almost 40% of the people who saw those tweets were male. And even though viewers under age 35 showed the least amount of interest in broadcast comedies, this younger audience still sent 41% of the tweets during these shows and saw 60% of the tweets sent by others about these comedies. These findings show how social TV offers great potential for exposing and expanding a brand to new audiences.
It's easy to see that tweets have the power to transcend the typical demographics for shows and reach audiences far beyond the core and conventional. Twitter can take TV advertising to a whole new level by complementing traditional TV reach and encouraging audience interactivity. For example, the Super Bowl always draws huge TV audiences, yet Nielsen showed that this year's game also scored 25.3 million tweets, which reached 15.3 million people on Twitter. And the Grammy Awards have a distinctive demographic of TV viewers, but the 13.8 million tweets generated by the show surely expanded the broadcast's reach to a much more diverse audience via Twitter.
In addition, the popularity of Twitter ensures that tweets are seen by all ages and genders. So even shows that skew toward a female audience can connect with more male viewers by reaching them through tweets about those shows. The same applies to programs preferred by older viewers whose tweets about their favorite shows can be seen by younger audiences on Twitter.
As a result, Twitter can expand exposure for TV networks and advertisers to a much wider demographic variety of audiences. That's why the industry is following social TV and watching it make an impression.
Watch for the latest news on social TV. Contact MDG.
MDG, a full-service advertising agency with offices in Boca Raton and New York, NY, is one of Florida's top branding firms. MDG's capabilities include print advertising, direct mail marketing, branding, logo design, creative, digital marketing, media buying and planning, radio and TV advertising, Web design and development, online video advertising, infographic development, email marketing, mobile marketing, content marketing, social media marketing, paid search marketing, and SEO. To learn about the latest trends in advertising and branding, contact MDG.