Twitter Introducing Weather-Targeted Advertising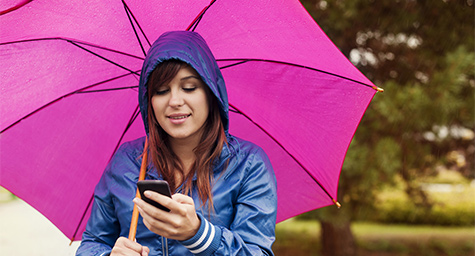 As the competition for advertisers heats among social media platforms, Twitter is showering marketers with new ad tools and features designed to meet their marketing needs and make them give other platforms the cold shoulder. Now, the social site is continuing its hot streak by introducing weather-targeted ads. Together with the Weather Channel, Twitter will enable advertisers to target their product ads to real-time local weather conditions. So for instance, a clothing brand could send promoted tweets for coats and boots to people facing cold conditions, or a coffee chain could promote their frosty drinks to people in a heat wave. Mashable.com posted more on these weather-targeted ads.
The Weather Channel will be the first media company to use Twitter's advertising API in a marketing campaign. This will enable the company to automatically buy ads across the Twitter platform and gain access to users' information.
Through this system, advertisers will be able to send promoted tweets based on various elements regarding the elements, such as temperature, rain, humidity, wind, and dew point. The promoted tweets will also be targeted by the Twitter subscriber's location, interests, devices, and keywords.
The Weather Channel falls under the umbrella of The Weather Company, which has been striving to broaden its business beyond its cable network after weathering a fee dispute with DirecTV.
In April 2013, the company started working with Twitter and Amplify on advertising initiatives that would let media brands and their advertising partners promote TV clips on Twitter. Now, the company will be able to leverage Twitter's programming interface to help brands target their tweets to specific conditions. The service is expected to start soon and its outlook is bright.
"Marketers have a search strategy and a social strategy," said Curt Hecht, the Weather Company's chief global revenue officer. "Marketers also need a weather strategy."
See what's on the horizon for social media. Contact MDG.
MDG, a full-service advertising agency with offices in Boca Raton and New York, NY, is one of Florida's top branding firms. MDG's capabilities include print advertising, direct mail marketing, branding, logo design, creative, digital marketing, media buying and planning, radio and TV advertising, Web design and development, online video advertising, infographic development, email marketing, mobile marketing, content marketing, social media marketing, paid search marketing, and SEO. To learn about the latest trends in advertising and branding, contact MDG.