Twitter's New Music App Uses Social Signals to Customize Recommendations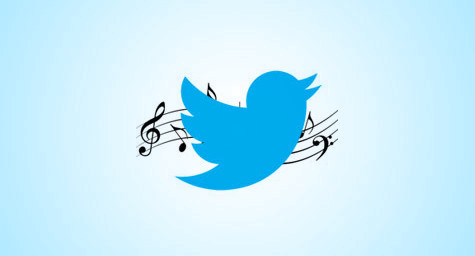 Twitter announced the release of Twitter Music yesterday, and social media is buzzing. The music discovery app allows users to discover new and trending music and to listen to songs and playlists directly from the app. Wired.com weighed in on Twitter's new venture and exactly why the app is such an incredible concept.
The Twitter Music app serves as a social media/music hybrid, allowing users to scope out "what's popular on Twitter, what new artists are emerging, the music people you follow are listening to, and suggestions based on your activity." The app also enables users to listen to tracks directly on their devices, entire songs for users with Rdio and Spotify accounts and 30-second iTunes previews for remaining users.
Twitter Music will revolutionize the way in which we discover new music. On rival Spotify, social engagement is limited to following a friend and seeing what that friend is listening to. The second they click play, every song, artist, and album is displayed in the feed to the right of the screen. Since there's absolutely no indication of what the friend likes or doesn't like, it's virtually impossible to determine their musical tastes. And that's where Twitter Music comes into play. Twitter Music is composed of music that users love enough to tweet about. The app is a filter of sorts, exposing followers to the music they should be listening to, music they'll enjoy and will want to continue talking about in the social media sphere. Twitter Music encourages users to connect with fellow listeners, discover new artists, and to listen, follow, and promote them.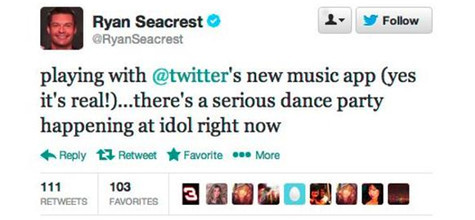 Radio personality Ryan Seacrest is a huge fan of the new app, and he's not alone. Blake Shelton, Ne-Yo, Jason Mraz, and a host of other musicians took to Twitter to express their love for the new app. Twitter's move to music is just underway, but if the positive feedback and business strategy are any indication, the app will probably see great success. According to Twitter's blog, "Many of the most-followed accounts on Twitter are musicians, and half of all users follow at least one musician." With this in mind, Twitter's foray into the music business is not only warranted, but also incredibly smart.
Time will tell if Twitter Music will rock social media, but the app will undoubtedly transform music discovery and social media engagement.
To add Twitter to your social media marketing strategy, contact MDG.
MDG, with offices in Boca Raton and New York, NY, is a full-service advertising agency and one of Florida's top creative ad agencies. MDG specializes in developing integrated marketing solutions, exceptional creative executions, and solid branding and media-buying strategies that give clients a competitive advantage. Our core capabilities include print advertising, branding, logo design, creative, digital marketing, creative media planning and buying, radio and TV advertising, Web design and development, email marketing, social media marketing, and SEO. For the latest on Twitter and social media marketing trends, contact MDG.
Read more at MarketingLand.com, wired.com, and Twitter.