Twitter Premieres Its New Nielsen TV Rating System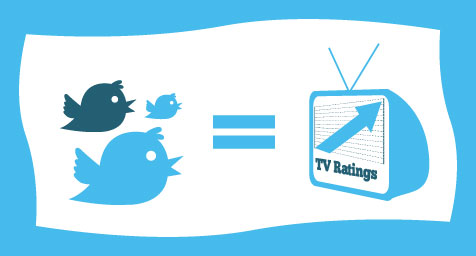 After much anticipation among advertisers, Twitter has rolled out its Nielsen Twitter TV Ratings system across the U.S. The system was designed to detect the number of tweets that mention certain shows, as well as the number of Twitter accounts reached by those tweets. TheVerge.com explained how this new ratings system is expected to translate tweets about TV shows into ratings and revenue.
While the number of tweets about a TV show is certainly important, it's the reach of those tweets that really matters to Twitter, Nielsen, and advertisers. After all, the power of Twitter lies in its ability to broadcast information to a global audience, so the extent of the audience that sees those tweets is the true measure of the show's awareness.
According to Nielsen subsidiary SocialGuide, the new rating system uses a variety of techniques to track and filter tweets about TV shows. As the system evolves, it will be able to further distinguish data by recognizing the difference between tweets from the viewing audience and mentions from celebrities about their own TV shows.
The TV ratings system is still new, so Twitter and Nielsen haven't commented on the number of advertisers and networks currently using it. But the introduction of a ratings system that can reliably measure the impact of tweets on TV shows is both good news for advertisers and proof of the great power of social media.
Keep up with the latest highlights and happenings in social media marketing. Contact MDG.
MDG, with offices in Boca Raton and New York, NY, is a full-service advertising agency and one of Florida's top creative ad agencies. MDG's core capabilities include print advertising, branding, logo design, creative, digital marketing, creative media planning and buying, radio and TV advertising, Web design and development, email marketing, social media marketing, and SEO. For the latest on Twitter and social media marketing trends, contact MDG. To discover the factors that generate Twitter followers, see "Study Reveals What Really Increases Twitter Followers."