Twitter Tests "TV Timelines" to Line Up Timely Talk on TV Shows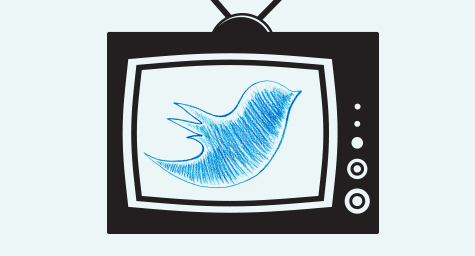 Twitter is channeling TV in a more social direction that could change the status of second-screen viewing. The social media network recently conducted a clever experiment that would let TV-loving users manage and maximize their mobile Twitter TV conversations. The concept is called TV Timelines and it's basically a TweetDeck for TV. Mashable.com tuned in on why it's a concept worth watching.
TV Traditions are Socially Shifting
The growth of second-screen viewing has made TV increasingly social in recent years. According to Nielsen research, at least 15% of TV viewers enjoy watching programs more when they involve social media. And despite the demand for on-demand viewing and DVR recording, live TV is still alive and well with U.S. adults watching more than five hours of live TV every day. Apparently, the biggest change in not when we watch, but how we watch, because viewers now are simultaneously engaging on social media while they're watching their favorite shows. And many turn to Twitter to talk in real time about these programs.
A Better View for Viewers
To make it easier to talk TV, the network tested out TV Timelines to place all the talk about a TV show into a simple interface. While Twitter users have traditionally managed their TV talk through a show's special hashtag, this concept makes it easier to find all of the conversations about a specific program, along with show highlights, photos, and videos they may previously have missed.
The Testing Time for TV Timelines
As Twitter typically does before launching a new feature, they tested out the concept on a small number of popular shows, including Big Bang Theory, American Idol, The Blacklist, and @Midnight. While these shows and networks knew about the experiment, it didn't affect the content, comments, or conversations posted during this time. This testing period was free of ads, but that may change at some point if the concept becomes a reality.
Twitter has remained silent about the experiment, but it's clear that the network is focused on this social media trend in TV viewing and is striving to be the first choice for the second-screen viewing experience.
Discover the latest trends in social media and TV viewing. Contact MDG
.MDG, a full-service advertising agency with offices in Boca Raton and New York, NY, is one of Florida's top branding firms. MDG's core capabilities include print advertising, direct mail marketing, branding, logo design, creative, digital marketing, media planning and buying, radio and TV advertising, Web design and development, online video advertising, email marketing, content marketing, social media marketing, and SEO. To learn about the latest trends in advertising and branding, contact MDG.