Twitter Thrills Marketers With More Tracking & Targeting Tools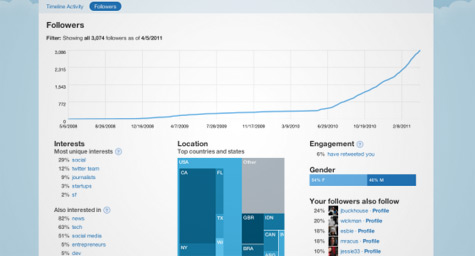 AdAge reports that Twitter is finally giving advertisers geo-relevant ads, along with more detailed user analytics that will enable marketers to tweak their tweets and know exactly who is noticing them. Twitter also announced the new Follower Dashboard, which helps brands better understand their Twitter customers, at the recent Ad Age Digital Conference in New York.
"Geo-relevance for promoted tweets and accounts allows marketers to reach the audience in the right geographic areas," said Adam Bain, Twitter's president of revenue. "Geo-targeting on Twitter is available in 210 cities in the U.S. and more than 100 countries." Twitter will be adding more cities and countries throughout the year.
The purpose of geo-targeted tweets is to capture the enormous amount of money available in the local ad market since small businesses and the majority of marketers focus on a particular geographic area.
Now, the dashboard idea is nothing new since Twitter already provides individual dashboards that indicate how campaign performance and individual tweets resonate with customers. But the Follower Dashboard gives brands much greater insight into the personal statistics and various interests of their followers on Twitter. This new dashboard lets advertisers view their ad and content performance by re-tweets, follows, unfollows, click-throughs and other actions. It is available to all marketers that work with Twitter on Promoted Products.
"Now, marketers can understand their audience and react better to that audience by refining their campaigns," said Mr. Bain.
Twitter currently has more than 600 advertisers, with 80% of them being repeat business marketers, for a total of 6,000 Twitter campaigns. A self-service tool is being built that the company hopes will increase the amount of advertisers to 60,000. This self-service tool for Twitter advertising and Promoted Products is intended to compete with Facebook's very popular self-service tool. It will be available for anyone to use later this year.
With these new Twitter tracking tools, brands will be able to see what followers think and just how much they can ask them to act.
MDG, a full-service Florida advertising agency, with offices in Boca Raton and New York, NY, specializes in developing targeted Internet marketing solutions, exceptional creative executions and solid branding and media buying strategies that give clients a competitive advantage.Our core capabilities include print advertising, branding, logo design, creative, digital marketing, media planning and buying, TV and radio advertising, public relations, Web design and development, email marketing, social media marketing and SEO. View MDG's creative marketing portfolio.