Twitter Tweaks Its Search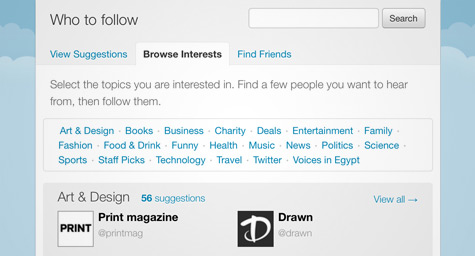 Twitter has finally made it easier for users to find and follow new accounts based on their interests, according to MediaPost.com. Twitter users will now see a tip that points to a set of search operators and an advanced search page to help them quickly find whatever they're seeking.
To search by interest, users can click on "view all" under the "Who to follow" tag. The "Browse Interests" tag allows users to search the categories that are most interesting to them. There are currently 22 interest categories such as Deals, Entertainment, Art & Design, Travel, Family, Fashion and Technology. The interests are also tied to people.
With the Advanced Search feature, users can search for a particular phrase, both positive and negative symbols, retweets and questions. Users can also type in an exact phrase in the "This exact phrase" search box or multiple words in the "All of these words" search box.
While Twitter doesn't currently offer interest-based ad targeting, Marketing Magazine reports that Twitter plans to launch "branded pages" that would let advertisers target tailored messages.
Twitter spokesperson Matt Graves says the platform already offers "profile pages" that allow brands to have a presence on Twitter. In fact, tens of thousands of brands and marketers have already established an active presence on the social site. With Twitter's introduction of interest-based search, advertisers are hopeful for more targeting opportunities in the near future.
MDG, a full-service Florida advertising agency, with offices in Boca Raton and New York, NY, specializes in developing targeted Internet marketing solutions, exceptional creative executions and solid branding and media buying strategies that give clients a competitive advantage.Our core capabilities include print advertising, branding, logo design, creative, digital marketing, media planning and buying, TV and radio advertising, public relations, Web design and development, email marketing, social media marketing and SEO. View MDG's creative marketing portfolio.