Twitter's Click-To-Call Feature Pours Out Direct Response for Mountain Dew's Baja Blast Soda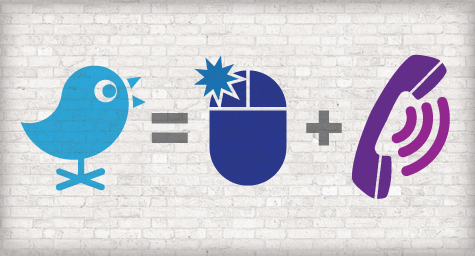 Mountain Dew recently quenched its thirst for promotion by turning to a new click-to-call tweet feature that Twitter is currently testing. Designed for direct response on mobile devices, this Twitter tactic allows brands to include a click-to-call button in tweets that users can click to automatically call the featured number. When Mountain Dew tried this Twitter tool to launch its largest limited-time offer for its Baja Blast soda, the beverage brand received 3,500 phone calls, along with 600 retweets and more than 1,300 favorites. AdWeek.com reported on how this Twitter tactic can dial up direct response results.
Click-to-call buttons have long been used to generate sales leads and now Twitter is giving the tactic a social media spin to make it a mobile marketing method.
To test this technique, Mountain Dew posted a tweet that featured a click-to-call button next to an image of professional skater Paul Rodriguez. Mobile viewers could click on the button and instantly call the phone number, which was answered by a voice recording from the skater and spokesman. By leaving a message for Rodriquez, callers were entered to win one of ten cases of Mountain Dew Baja Blast. The winner would be notified by a call from Mountain Dew. Promoted Tweets were also used to build buzz for the click-to-call tweet.
And the response was remarkable, with 3,500 phone calls and 78% of messages or lasting more than 30 seconds, as well as hundreds of retweets and favorites for the post.
Yet this was just the latest in Mountain Dew's Twitter tactics to promote Baja Blast. In the spring, Mountain Dew replied to 500 users who had tweeted their desire to bring back Baja Blast with a tweet that the soda would hit shelves again this summer. A whopping 83% of those recipients engaged with the tweet they received. And later, when the beverage brand posted a tweet featuring a photo of the drink, the tweet received more than 4,000 retweets and 3,300 favorites.
Following the success of their click-to-call tweet, Mountain Dew is once again calling on Twitter to support the campaign around Baja Blast. Plans include running social media ads for a new branded mobile app and promoting its new TV spot by sharing online video content through Twitter's native video player.
Twitter started testing this click-to-call concept earlier this year in order to boost its advertising appeal among direct response-focused brands seeking sales leads from social media marketing. Now, the platform plans to increase these efforts through Twitter Cards to help drive app downloads and gather email addresses in order to respond to the need for socially savvy direct response.
Learn how to generate sales leads with direct-response social media marketing. Contact MDG.
MDG, a full-service advertising agency with offices in Boca Raton and New York, NY, is one of Florida's top branding firms. MDG's capabilities include print advertising, direct mail marketing, branding, logo design, creative, digital marketing, media buying and planning, radio and TV advertising, Web design and development, online video advertising, infographic development, email marketing, mobile marketing, content marketing, social media marketing, paid search marketing, and SEO. To learn about the latest trends in advertising and branding, contact MDG.