U.S. Mobile Advertising Spending Predicted to Rise 77 Percent in 2013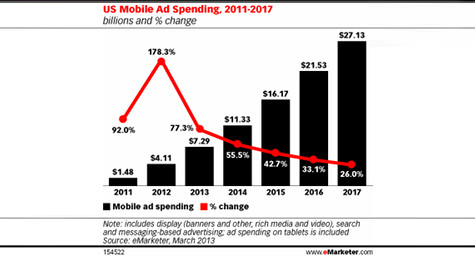 Mobile advertising is expected to hit $7.29 billion in 2013 and Google is likely to earn more than half of those revenues, according to a new forecast from eMarketer. This indicates a 77 percent increase over last year's explosive 178 percent growth in mobile ad spending. These ad dollars represent spending on display, search, and messaging-based formats served to all mobile devices. The study went on to predict that U.S. advertisers will devote $27.13 billion to mobile by 2017. eMarketer.com highlighted more of the forecast's findings.
The prediction was compiled from year-end results from numerous major mobile publishers, in conjunction with estimates from other research firms, consumer mobile usage data, and interviews with industry leaders, brand executives, and ad agencies.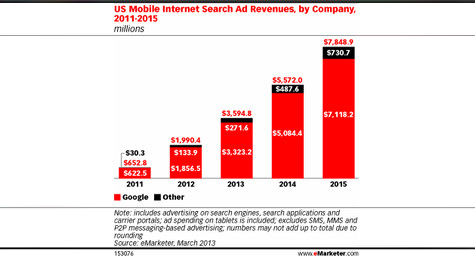 Based on its dominance in the mobile search market and solid showing in mobile display, Google has become the largest player in the mobile search arena by far. In fact, the company earned 93 percent of U.S. net mobile search ad dollars in 2012. This new prediction of more than half of U.S. mobile ad dollars going to Google this year will increase the company's share by almost 3 percentage points by 2015. The majority of those mobile ad revenues will come from the company's increasing monetization of YouTube. Search ad revenues are also expected to continue their rise. Facebook accounted for almost 10 percent of total mobile ad revenues last year and is expected to bring in around 13 percent in 2013.
In terms of mobile display advertising revenue, Facebook continues to be the leader and is forecast to earn nearly three in 10 mobile display ad dollars this year. Facebook is followed by Google, Pandora, and Twitter. In fact, Twitter made an incredibly impressive showing by bringing in 7.3 percent of net U.S. mobile display ad dollars last year, which was its first year offering these types of ads.
To learn more about the rise of mobile advertising and the power of mobile marketing, contact MDG.
MDG is a full-service advertising agency and one of Florida's top creative ad agencies. With offices in Boca Raton, FL and New York, NY, MDG specializes in developing integrated 360° marketing strategies that give clients a competitive advantage. Our core capabilities include branding, logo design, digital marketing, print advertising, mobile marketing, email marketing, media planning and buying, TV and radio, video ads, Web design and development, content marketing, social media marketing, and search engine optimization (SEO). To stay on top of the latest trends in mobile marketing and advertising, contact MDG.Read more at Emarketer.com.