U.S. Open Courts Fans with Selfie Campaign in New York City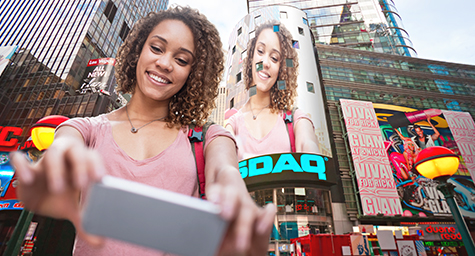 The U.S. Tennis Association (USTA) is trying to score more fan involvement with The U.S Open, with an integrated ad campaign that started with a major selfie promotion in New York's Times Square. The campaign called "You In?" gave people the opportunity to take selfies in the iconic New York location and have them posted on six billboards facing hugely crowded Times Square. The concept was developed and executed by AOR McGarryBowen Chicago, digital AOR Horizon Media, and outdoor ad specialist Apel-Spero Media. While the main point of the campaign is to promote the U.S. Open, the selfie promotion was created to net younger, more tech-savvy fans by showing that there are more ways than ever to get into the game this year. The NYtimes.com shared details on this campaign designed to win over the next generation of tennis fans.
Playing to the Love of Social Media
The campaign launched last week by inviting people to come to Times Square and take selfies in the hope of seeing their faces shown on New York's giant billboards. Thousands of tourists and locals responded by gathering in the location to take their selfies and post them to a designated Snapchat geofilter designed to create engagement and interest in the "You In?" message, as well as hashtags like #USOpen. Once the selfies were submitted, they were given a 10-second broadcast on one of six Times Square billboards.
Winning Over Engagement
The huge number of social impressions netted by this selfie promotion revealed its great success. Yet this social media effort was only one part of the "You In?" campaign, which is scheduled to continue across TV, print, outdoor, digital and social media channels throughout the U.S. Open tournament.
See the big picture in social media marketing. Contact MDG.
MDG, a full-service advertising agency with offices in Boca Raton and New York, NY, is one of Florida's top branding firms. MDG's capabilities include print advertising, direct mail marketing, branding, logo design, creative, media buying and planning, radio and TV advertising, outdoor, newspaper, digital marketing, website design and development, online video advertising, infographic development, email marketing, video marketing, mobile marketing, content marketing, social media marketing, paid search marketing, and SEO. To learn about the latest trends in advertising and branding, contact MDG.