Usage Trends for 5 Top Social Media Networks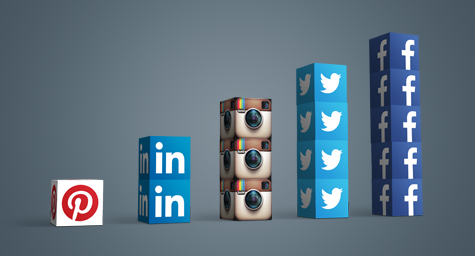 Facebook remains the social media network with the biggest user base and most engaged members, according recent U.S. data from the Pew Research Center.
Overall, 71% of Internet users in the United States are on Facebook, a proportion that has stayed the same since August 2013, according to the report.
Every other social media platform measured (LinkedIn, Pinterest, Instagram, and Twitter) saw significant growth between 2013 and 2014.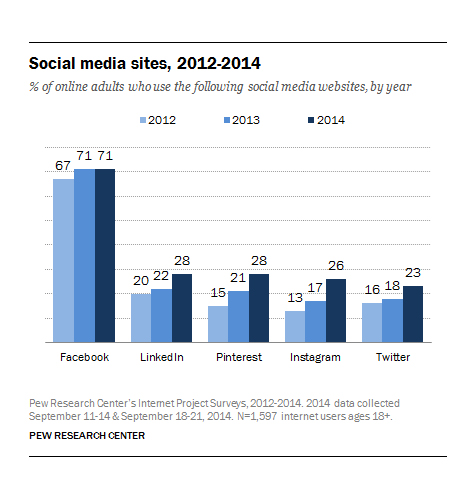 Some 70% of Facebook's users engage with the platform daily, and 45% do so several times a day, a significant increase from the 63% who did so in 2013.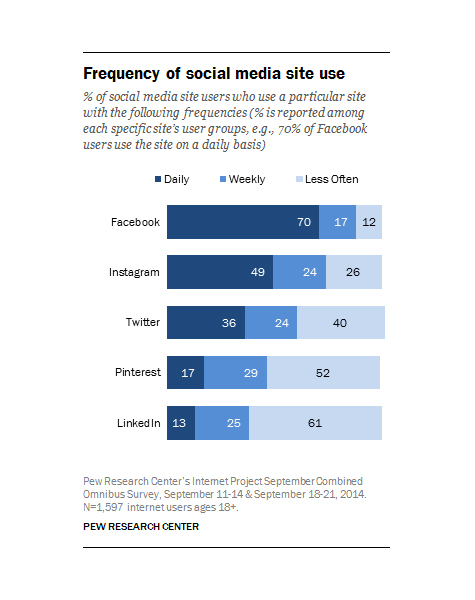 Nearly half (49%) of Instagram users, 17% of Pinterest users, and 13% of LinkedIn users engage with those platforms daily, about the same as in 2013. Some 36% of Twitter users visit the site daily, a 10-point decrease from the 46% who did so in 2013.
The report was based on data from a survey conducted in September 2014 of 1,597 Internet users in the United States ages 18+.
Other key insights include:
81% of all American adults ages 18+ are now Internet users.
Multi-platform use is on the rise, with 52% of online adults in the U.S. saying they now use two or more social media sites.
More than half (56%) of all online adults 65 and older use Facebook (31% of all seniors).
Women are particularly likely to use Facebook compared with men.
Among Facebook users, the median number of Facebook friends is 155. When asked to say how many of their Facebook friends they consider "actual" friends, the median number reported was 50.
Twitter is particularly popular among those under 50 and the college-educated.
More than half of Internet-using young adults ages 18–29 (53%) use Instagram.
42% of online women are Pinterest users, compared with just 13% of men.
50% of college graduates use LinkedIn and it is the only platform where people ages 30–64 are more likely to be users than those ages 18–29.
Discover how social media marketing can boost your brand's bottom line. Contact MDG today at 561-338-7797 or visit www.mdgsolutions.com.
MDG is a full-service advertising agency and one of Florida's top branding firms. With offices in Boca Raton and New York City, MDG's core capabilities include branding, logo design, print advertising, digital marketing, mobile marketing, email marketing, media planning and buying, TV and radio, outdoor advertising, newspaper, video marketing, Web design and development, content marketing, mobile marketing, social media marketing, and SEO. To discover the latest trends in branding and advertising, contact MDG today at 561-338-7797.