How Social Media Networks are the Ticket to Driving Travel and Hospitality Bookings [Infographic]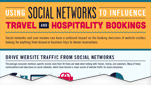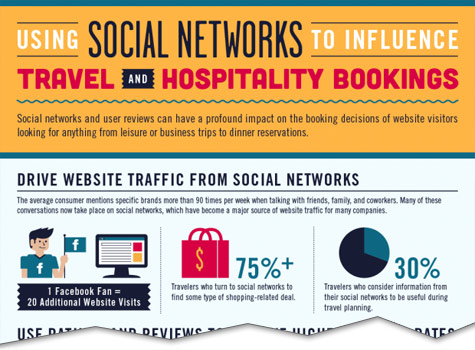 Travel is all about the experience, so it's only natural that people would seek the experiences of others when planning their trips. And social media networks are prime destinations for finding views on venues. These networks feature reviews and ratings that affect where travelers look and book. This talk drives so much traffic to websites that travel marketers and their branding firms need to use these social media networks to boost their bookings and business. For more details on how social sparks travel, check out this infographic by Monetate.com.
The infographic highlights the virtual value of social media users, with fascinating facts such as:
•    Each Facebook fan is worth 20 website visits
•    30% of travelers use social media input when travel planning
•    70% of Americans read online reviews before planning their trips
The graphic also extends to restaurants and cites that:
•    1 billion restaurant visits are influenced by online marketing
•    Ratings have a direct effect on restaurant reservations, with a half-star rating increase translating to 19% fewer available reservations
Finally, the infographic packs in helpful hints for increasing conversions from social media networks. Check out all of the ways that social media drives travel.


Infographic by Monetate.
Make social media a part of your hospitality brand's success. Contact MDG today at 561-338-7797 or visit www.mdgsolutions.com.
MDG is a full-service advertising agency and one of Florida's top creative branding firms. With offices in Boca Raton and New York City, MDG's core capabilities include branding, logo design, print advertising, digital marketing, mobile marketing, email marketing, media planning and buying, TV and radio, outdoor advertising, newspaper, video marketing, Web design and development, infographic development, content marketing, mobile marketing, social media marketing, and SEO. For more on the latest trends in branding and advertising, contact MDG today at 561-338-7797.