Victoria's Secret Channels Mad Men in Holiday TV Advertising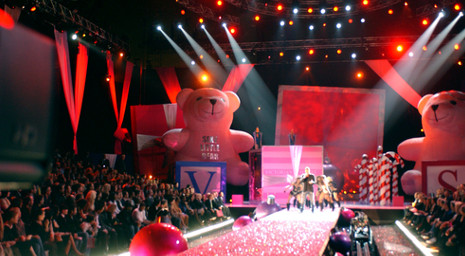 At a time when most major brands are seeking new digital marketing opportunities, Victoria's Secret is taking an old-school approach to their holiday advertising with the return of their perennially popular network-TV fashion show. For more than 20 years, the intimate apparel brand has had enormous success with this highly anticipated TV advertising event featuring models on parade in the brand's embellished and elaborate lingerie. From a retail marketing standpoint, the fashion show ultimately serves as a one-hour TV commercial that hypes up the brand to a huge audience just in time for the holiday shopping season. For insight on how the lingerie brand turned a television fashion show into one of the holiday's hottest events, Businessweek.com revealed the real secret behind Victoria's Secret success.
As the largest specialty retailer for intimate apparel, Victoria Secret has created a stand-alone market for items ranging from fancy lingerie to everyday underwear. Its main competition is department stores, so the brand distinguishes itself as a specialized boutique experience that goes beyond the usual big-box stores.
Its over-the-top fashion show has always delivered a large audience, but last year's show received the highest ratings in a decade with an audience of 11.5 million viewers comprised mostly of women. The show features both established and up-and-coming models called "Angels" who have generated huge fan followings of their own. Each year, one model wears a multi-million dollar bra gift set to convey the event's sense of indulgence and the brand's aspirational tone. As a result of these elements, the brand is experiencing its strongest year yet with sales rising seven percent in the last three quarters to $4.33 billion after posting a record-setting $6.1 billion in revenue for the year through January.
With online sales poised to increase 16 percent to $586 billion in revenue for retailers this holiday season, Victoria's Secret's traditional TV advertising strategy goes starkly against both industry trends and the digital marketing focus of other retail brands. Another surprise to some is that rather than promoting available merchandise, the fashion show features whimsical and wild lingerie ensembles based on imaginative themes that cannot be purchased in stores. Essentially, the fashion show is an over-the-top stage production that lets viewers escape into a world of beautiful women and costumes. It provides outstanding exposure and reach while upholding the brand's image as a purveyor of fantasy.
The brand does not completely avoid digital marketing, but rather opts to use social media and e-mail to attract Web traffic and generate excitement for its new collections and events, including the popular fashion show. This supplemental strategy appears to working, since online and catalog sales increased four percent to $1.56 billion over the past year while revenue at the brand's 1,000-plus retail stores jumped 14 percent to $4.56 billion.
The lack of emotion in digital marketing is the primary reason that Victoria's Secret prefers more traditional advertising approaches. The brand is more concerned with promoting the in-store experience and creating a sense of desire than keeping up with digital marketing innovations.
By taking a traditional TV advertising approach based on emotion and the experience, Victoria's Secret is able to gain extraordinary exposure by exposing almost all.
To learn more about the latest trends in traditional TV advertising and digital marketing, contact MDG.
MDG, a full-service traditional and digital marketing agency with offices in Boca Raton and New York, NY, specializes in developing targeted Internet marketing solutions, exceptional creative executions and solid branding and media buying strategies that give retail marketing clients a competitive advantage. Our core capabilities include print advertising, branding, logo design, creative, digital marketing, media planning and buying, radio and TV advertising, customer relationship management, loyalty programs, Web design and development, email marketing, social media marketing, and SEO. View MDG's creative marketing portfolio.
Read more at BusinessWeek.com.