Video on the Tough Job of Motherhood Earns Enough Love to Go Viral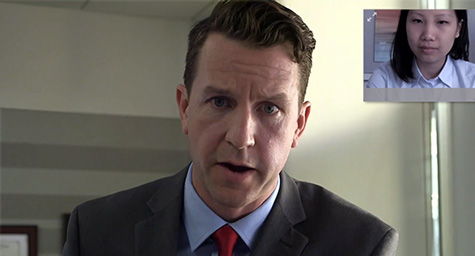 A new video about a mother's workload has hit the viral marketing mother lode for Cardstore.com, American Greetings. Just in time for Mother's Day, the spot about all that moms do every day made a dynamic debut in the number-two spot of Adage.com's Viral Video Chart. The brand-new spot quickly worked its way into viewers' hearts to earn a whopping 15.7 million video views in a single week. ViralBlog.com posted all of the details on Cardstore's clever video that shows why moms deserve our love, our gratitude, and a vacation!
The four-minute video opens by explaining how real interviews were conducted for a fake job. It goes on to show multiple applicants sitting down for interviews via webcam. Then, the interviewer starts describing the tedious tasks involved in the position of Director of Operations. He states that it's not just a job, but probably the most important job.
The responsibilities are intense. Working 24 hours a day for seven days a week. Constantly standing and exerting yourself. No breaks. No holidays. No sleep. No personal life. Requires degrees in medicine, finance, and the culinary arts. And most importantly, the position pays absolutely nothing.
The interviewer justifies the lack of pay by explaining that the wealth of personal rewards and fulfillment are immeasurable.
As the applicants show their shock, the interviewer says that billions of people perform this job every day—and they are commonly called moms.
Suddenly, their reactions change to nods of agreement, words of gratitude, and tears of love. As the video comes to an end, there's a subtle reminder that you may want to make your mom a card on Mother's Day to thank her for a job well done.
Discover the secrets for making online videos go viral. Contact MDG today at 561-338-7797 or visit www.mdgsolutions.com.
MDG, a full-service advertising agency with offices in Boca Raton and New York, NY, is one of Florida's top branding firms. MDG's capabilities include print advertising, direct mail marketing, branding, logo design, creative, digital marketing, media buying and planning, radio and TV advertising, Web design and development, online video marketing, infographic development, email marketing, mobile marketing, content marketing, social media marketing, and SEO. To learn about the latest trends in advertising and branding, contact MDG today at 561-338-7797 or visit www.mdgsolutions.com.