Video Takes a Starring Role in B2B Marketing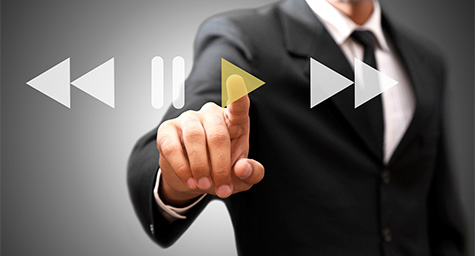 Video is no longer typecast as a form of entertainment and has now become a smash hit for many B2B marketers. These marketers see that its huge entertainment value makes it a very valuable vehicle for boosting brand awareness, increasing lead generation, and raising conversion rates. These views were revealed in a recent study by Demand Metric and Ascend2, sponsored by Vidyard video marketing platform. To show how video marketing is making an impact on B2B brands, The Wall Street Journal shared some study highlights.
Video Marketing Is the Ticket to B2B Success
According to the survey, more and more B2B brands are seeing that video is a great visual vehicle for demos and explanations. And adding to video's value is the low cost to produce and place a video, as well as the flexibility and convenience for consumers to watch on their own time and terms.
While those reasons may have convinced B2B to get into video marketing, it's their success that's making them stay there. The study showed:
82% of B2B respondents were experiencing success with video marketing.
67% said that their video marketing has been somewhat successful at achieving important objectives.
63% were increasing their video marketing budgets in the future.
32% said they would maintain their current level of video marketing spending.
15% considered their video marketing very successful at reaching key goals.
"The vast majority of marketers are investing; the vast majority has said that they've had success with it," said Michael Litt, CEO and co-founder of Vidyard. "There's just more and more momentum going into video marketing spend."
Social Media Plays a Supporting Role
B2B brands are working hard to try to reach their target audience on social media platforms. Some have great success with demographics-based targeting, while others are realizing that getting customers to post video testimonials on Facebook can be incredibly valuable.
B2B marketers are really just discovering the enormous potential of video marketing on Facebook and other social media platforms. B2B marketers had previously considered social media to be more suited to consumer brands, but they are realizing that their B2B customers and larger target market are on social media both professionally and personally. This makes social media a direct link to these clients and prospects.
And when a visual vehicle like video is paired with the reach of social media, B2B brands gain the power to present their products in lifelike detail and have satisfied customers promote their brands.
Video Stays In the B2B Spotlight
With the success that many B2B brands have already seen with video marketing, industry experts expect to see many more B2B brands get involved or increase their video spend. And when they factor in the ability to measure and track the effectiveness of video, expect video marketing to earn even more B2B fans.
Keep up with what's new in B2B marketing. Contact MDG.
MDG is a full-service advertising agency and one of Florida's top branding firms. With offices in Boca Raton and New York City, MDG's core capabilities include branding, logo design, print advertising, digital marketing, mobile marketing, email marketing, media planning and buying, TV and radio, outdoor advertising, newspaper, video marketing, website design and development, content marketing, mobile marketing, social media marketing, and SEO. To discover the latest trends in branding and advertising, contact MDG.