Virtual Fitting Rooms Changing the Clothes Shopping Experience [Retail Marketing]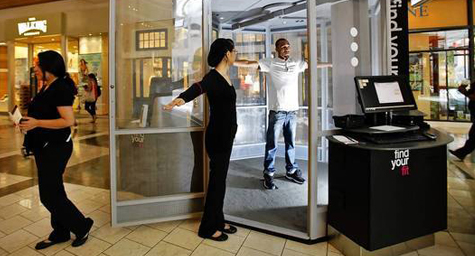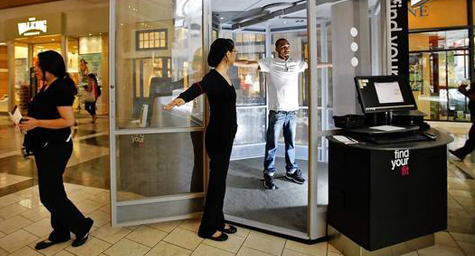 Dressing is going digital with the introduction of high-tech sizing machines that scan shoppers' bodies and provide instant printouts that recommend the sizes and styles that will fit them the best. The technology is already appearing in shopping malls across the country and is receiving a very warm response from shoppers who love how much easier and more enjoyable it makes the shopping experience. It is also benefiting the entire clothing industry, from the manufacturers who are seeing larger profits from higher sales, to retailers who require less sales staff to re-fold and re-stock rejected items. The Los Angeles Times reported on this new digital direction for dressing.
"It's disruptive technology that could break open the whole e-commerce apparel space," said Raj Sareen, chief executive and founder of Styku. This Los Angeles-based company has created a program that measures users' dimensions and provides personalized digital avatars that virtually "try on" clothing. The program can also determine how an item of clothing will fit before the shopper even tries it on by analyzing specifications provided by the clothing company. The company is finalizing deals with retailers to install the software directly into dressing rooms, but the program will also be offered directly to consumers for home use by the end of the year.
Such in-home sizing technology could make a major impact on Internet sales and solve the ongoing problem of Internet returns. Almost one-quarter of clothing ordered online is returned due to improper fit. With this sizing software being developed for home use, shoppers will be able to scan themselves for precise measurements and clothing matches before they buy anything online.
There are a number of companies creating similar sizing technology with great success. The California-based FaceCake Marketing Technology has launched Swivel, a 3-D dressing room that allows shoppers to virtually try on clothing on a computer monitor or TV screen. The London firm Bodymetrics has developed in-store body-mapping booths. In addition, the Canadian firm Unique Solutions Design has developed size-matching devices called Me-Ality machines that currently operate in 65 U.S. shopping malls and scan approximately 200,000 shoppers each month. The company plans to install another 200 machines across the country by the end of 2012.
The technology is being widely praised for its power to drive sales. Bloomingdale's in Century City saw denim purchases soar when it installed body scanners in that department in March. Southern California malls with Me-Ality machines rave about how they make the shopping experience more efficient, much faster, and allow shoppers to visit more stores. Old Navy employees have noticed a sharp increase in the sale of denim since the arrival of the Me-Ality machines in malls.
Unfortunately, the price of more personalization is less privacy. Technology companies are well aware of the enormous profit potential from the sale of the body data they collect. Me-Ality's executives assured that only customers' anonymous measurements would be shared, but privacy experts worry that the data could be used by retailers for disruptive ads or that hackers could illegally obtain the information.
For now, most shoppers and retailers seem excited about the sizing technology. The industry hopes to expand the machines to clothing styles that demand precise sizing, such as scuba diving suits and ski apparel. As the retail industry strives to recover from the recession, such sizing technology could be a simple solution for getting shoppers back into stores and back into spending.
To learn how savvy branding and innovative technology can increase your company's appeal to shoppers and enhance your retail marketing ROI, contact MDG today at 561-338-7797, or visit www.mdgsolutions.com.
MDG, a full-service Florida advertising agency with offices in Boca Raton and New York, NY, specializes in developing targeted Internet marketing solutions, exceptional creative executions and solid branding and media buying strategies that give clients a competitive advantage. Our core capabilities include branding, logo design, creative, digital marketing, print advertising, media planning and buying, TV and radio, Web design and development, email marketing, social media marketing and SEO.
Read more at LATimes.com.