VW Dispatches Dynamic Direct Mail Campaign to Drive Test Drives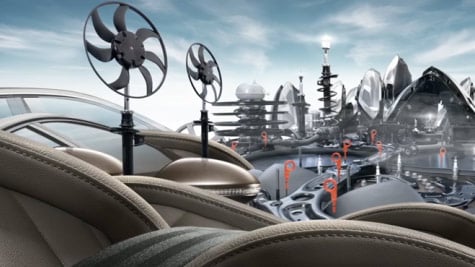 Direct mail has long been the preferred promotional vehicle for automotive brands and Volkswagen recently produced a creative and compelling direct mail campaign to steer potential buyers toward taking a test drive of its new Golf model. The challenge the brand faced was distinguishing its mailing and message from the similar efforts of its car competitors. Proximity London produced a visually captivating direct mail campaign that was literally more than the sum of its parts. DMNNews.com described the features of VW's eye-catching mailing designed to shift prospects toward getting behind the wheel.
VW was trying to target a rather broad audience that included both male and female Golf customers between the ages of 25 to over 65. They wanted to reach current and prior customers, along with prospects who had expressed an interest in the new model.
"We do a lot of email and CRM for VW, as well, but direct mail is still what people want because it provides a tactile experience—they actually want to keep the literature," said Caitlin Ryan, executive creative director at Proximity London, the ad agency responsible for the promotion. "With VW, we know that once we get them to test drive the car, we've pretty much got them, so the role of direct mail here is to entice them enough so we stand out from the rest."
To create this driving distinction, they tapped experimental photographer Carl Warner. He's widely acclaimed for producing stunning three-dimensional landscapes out of ordinary products by deconstructing them down to their basic elements and then reassembling these parts into surreal scenic vistas. Their vision involved taking Mr. Warner's unique style to highlight the car's new features beneath the hood. This called for disassembling the car into parts like gears, spokes, headlights, and other individual pieces. Then, these parts were used to inspire the design of a wild and whimsical landscape visually constructed from these basic components.
The visual result was a truly mesmerizing direct mail piece depicting a three-dimensional, futuristic city built with all of these VW parts. It took more than three days to create and was actually photographed in layers. The accompanying tagline read, "There's so much to discover behind the wheel of a new Golf."
The mailing also completely stood out from competitors' efforts that usually just feature beauty shots of the car. Instead, Volkswagen took an artistic approach in the hope of speaking to consumers in a more sophisticated way, which has become the signature of the brand.
While final results of the mailing aren't yet in, VW appears to have succeeded in distinguishing the new Golf in a way that inspires both action and awe.
Infuse your direct mail campaign with creativity to maximize its impact and outcome. Contact MDG.
MDG, a full-service advertising agency with offices in Boca Raton and New York, NY, is one of Florida's top creative ad agencies. Our 360° approach uses just the right mix of traditional and digital marketing to reach your advertising goals. MDG specializes in developing integrated marketing strategies, exceptional creative executions, and solid branding and media-buying strategies that give clients a competitive advantage. Our core capabilities include print advertising, direct mail marketing, branding, logo design, creative, digital marketing, media planning and buying, radio and TV advertising, outdoor advertising, Web design and development, email marketing, social media marketing, and SEO. To stay on top of the latest trends in marketing and advertising, contact MDG.
Read more at DMNews.