Watch as Virtual Reality Becomes an Advertising Reality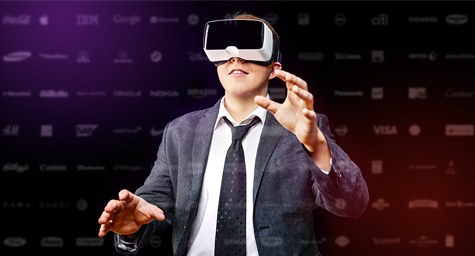 It's time for marketers and brands to get real and embrace the experiential power and potential of virtual reality. Up until now, social media has served as the leading storytelling platform. But today, virtual reality is building on social media's strengths and is rapidly becoming much more influential in advertising. Virtual reality benefits both brands and consumers in profound ways through the element of experience. It enables brands to spotlight their products and services through captivating and lifelike experiences, while allowing consumers to interact with brands through these highly immersive experiences. Now that several major brands are successfully experimenting with virtual reality, its appeal is only expected to grow as more brands adopt the technology and more consumers discover the thrill of this experiential format. Yet virtual reality is both an art and a science that requires specialized insight to master. Discover how to leverage virtual reality for marketing to let consumers experience a brand in exhilarating and effective ways.
Bringing Virtual Reality to Life
While once only seen in sci-fi movies and portrayed in futuristic novels, virtual reality is finally becoming more mainstream. Some of the early adopters have developed virtual reality apps and experiences that have been well received by consumers.
According to LuxuryDaily.com, media experts predict that virtual reality will take on a major role for brands in 2016 and beyond. As a result, expect several brands to start experimenting with the technology to become leaders in its adoption as it becomes more and more accepted. This will serve those pioneering brands well in the future by rewarding them with consumer appeal and buzz, as well as helping them form innovative partnerships with developers of virtual reality hardware and content.
But before virtual reality can expand to the masses, viewers need to have ways to view it. Well, the wait is over because TheGuardian.com reports that a number of companies are creating technologically advanced yet surprisingly affordable viewing devices. From Samsung's under-$100 VR Gear headset to HTC's Vive and PlayStation's VR, many major brands are rushing to develop virtual viewing in an effort to take the technology more mainstream. Even toymaker Mattel has retooled its classic View-Master toy to be a virtual reality headset.
And combining a digital approach with a traditional promotion, The New York Times was one very early adopter of virtual reality. The publishing giant released an app that virtually transports viewers directly into news around the world, from the aftermath of the Paris terrorist attacks to the plights of children in war-torn countries. To promote its new virtual reality app and encourage mainstream audiences to use the technology, the publisher relied on a promotion based in traditional media by distributing 13 million Google Cardboard headsets.
Today, virtual reality developers are racing to fine-tune the viewing gear to rush it into the marketplace. As a result, Juniper Research predicts the sale of more than 12 million virtual headsets by the end of 2016, with sales expected to reach 30 million worldwide by 2020. This upcoming surge in sales is driving many marketers and brands to incorporate virtual reality concepts into their plans and promotions, whether today or down the line.
A Closer Look at Virtual Reality vs. 360 Video
Many marketers mistake virtual reality for 360 video. Adage.com revealed that while they're certainly related, they're two distinct content and production tactics, yet the latter can certainly advance the adoption of the former.
Consumers are already able to experience 360 video on a variety of digital devices, from smartphones to laptops, so it doesn't have to be marketed as dependent on a virtual reality viewer. It's already very popular with a wide range of audiences. In contrast, virtual reality content uses 360 video to provide an immersive experience. But this content can only be viewed on special virtual reality gear, which is only just starting to appear on the market.
Yet marketers can leverage the current popularity of 360 video to encourage increased adoption of the new virtual reality viewers.
According to LuxuryDaily.com, the combination of a virtual reality vantage point with 360-degree video presents unlimited opportunities for marketers to put consumers at the center of a brand or product experience. And consumers often need to experience a brand or product before they're compelled to pursue or purchase it.
Which Industries Should Set Their Sights on Virtual Reality?
It's important to realize that virtual reality may serve some industries better than others, especially in the beginning, when resources and reach will be rather limited. That's why marketing specialists say it makes sense for automotive, retail, food and beverage, and travel companies to experiment with the technology first, since it may be better suited to conveying their offerings. Plus, their audiences tend to be more open to innovative marketing tactics and tools.
By allowing these industries to test the waters of virtual reality, they can help increase consumer acceptance and familiarity. Plus, they can bear the responsibility of exploring ways to connect and compel throughout the consumer lifecycle.
While this will work to the advantage of early adopters by establishing them as innovative leaders, their efforts also will provide a wealth of information and insight that can benefit other industries and smaller companies that embrace the technology later.
Retail is Ready for a Dose of Reality
Today, retailers of all sizes and scopes are using virtual reality to provide consumers with experiential retail opportunities.
Some retail giants are even devoting entire stores to promote consumer experiences. Forbes.com reported that Samsung's newly opened New York flagship store called Samsung 837 forgoes stocking any products at all and only offers experiences. Designed as a venue for hosting special events, the store is equipped with giant interactive screens, a theater, a multimedia studio, and an appliance-filled kitchen. It serves solely as a location to celebrate and share the experiences created and viewed on Samsung products. And many are experienced through virtual reality.
Other retail brands getting a foothold on virtual reality are hiking-boot brand Merrell and athletic giant Nike. Last year, Merrell released a virtual reality ad that gave viewers the experience of walking over a fragile bridge in the mountains. And Nike produced some extremely immersive content that allowed consumers to virtually walk in the footsteps of Brazilian soccer star Neymar.
These retail brands are leading the way in virtual reality. By encouraging consumer acceptance of the technology, they'll undoubtedly lead many more retail brands and retailers to follow.
Automotive Industry Races Toward Virtual Reality
Automotive brands are well aware of the importance of test drives because they let consumers experience a vehicle personally and often stimulate an emotional response that leads to desire. Think of virtual reality is as the next generation of test drives, because it fulfills a consumer's experiential needs, but on a purely digital level. This striking similarity is driving many automotive brands to pursue virtual reality for marketing and connection.
One of the first automotive brands to leverage virtual reality was Volvo. The company let consumers download a special Volvo Reality app, which enabled them to create a Google Cardboard headset that allowed them to take a virtual test drive in the brand's new XC90 SUV model. This approach was extremely effective because it provided the thrill of experiencing the new car on the consumer's own schedule, without having to visit a Volvo dealership.
Another automaker blazing a trail in virtual reality is Toyota. The company incorporated this technology into its TeenDrive365 campaign to teach teens about the dangers of distracted driving. And American auto brand Ford is also experimenting with virtual reality to develop and promote new automotive products.
Food and Beverage Brands are Hungry for Innovation
With food and beverage consumers constantly seeking new experiences and tastes, virtual reality clearly satisfies their craving for novelty. As a result, it's been extremely effective for food and beverage brands looking to deliver a brand-centric experience outside of their locations, as well as build buzz through social sharing.
McDonald's is known for being a leader in the food industry, so it's not surprisingly that the fast food chain has already embarked on virtual reality. By downloading a complimentary app and purchasing a special Happy Meal, McDonald customers in Sweden have the ability to turn the Happy Meal's packaging into a virtual reality viewer to experience a virtual world.
And to increase the appeal of virtual reality to today's young influencers, The Verge.com reported that McDonald's partnered with HTC at the 2016 SXSW Interactive Festival. The fast food chain presented a virtual reality experience that promoted its brand, the new HTC Vive virtual reality viewer, and the technology itself.
Coca-Cola's early involvement in virtual reality is proof that virtual reality is going mainstream. Last year, the beverage giant launched a successful virtual reality headset campaign for Fanta. It enabled consumers to create a virtual reality viewer by recycling cardboard packaging and pairing it with a smartphone. This year, Coca-Cola plans to expand the campaign's coverage to encourage both global responsibility and widespread acceptance of virtual reality.
The Real Appeal of Virtual Reality to Both Brands and Consumers
According to HuffingtonPost.com, media experts agree that virtual reality is an ideal marketing tool for a number of reasons. For one, it allows brands to intently focus a consumer's attention on a brand. Secondly, a consumer can be instantly transported to a tactile and fascinating world that reinforces a brand's message, story, and offerings. And perhaps most importantly, virtual reality compels and captures consumers on a deeply emotional and personal level that drives them into action.
Virtual reality clearly offers a world of marketing advantages. By embracing this technology today, both brands and consumers can begin to benefit from the experience.
Keep up with the latest trends in marketing. Contact MDG.
MDG, a full-service advertising agency with offices in Boca Raton and New York, NY, is one of Florida's top branding firms. MDG's capabilities include print advertising, direct mail marketing, branding, logo design, creative, media buying and planning, radio and TV advertising, outdoor, newspaper, digital marketing, website design and development, online video advertising, infographic development, email marketing, video marketing, mobile marketing, content marketing, social media marketing, paid search marketing, and SEO. To learn about the latest trends in advertising and branding, contact MDG.