Watch for Ads to Start Appearing on Instagram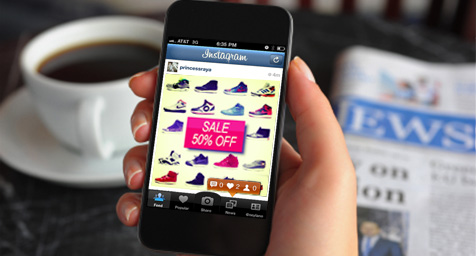 Instagram gained fame as an online service for sharing photos and videos, and now some of those images will be advertisements. Facebook purchased the popular service last year for about $1 billion, but it has yet to generate any revenue. Until now. The Wall Street Journal reported on how Instagram is evolving into the picture of profitability.
"Seeing photos and videos from brands you don't follow will be new, so we'll start slow," said a Facebook spokesman. "We'll focus on delivering a small number of beautiful, high-quality photos and videos from a handful of brands."
The ads should start appearing in the next few months, but only in the U.S. And Instagram users will be able to hide any ads they choose, as well as provide feedback. Facebook is hoping that this feedback will contribute to a much better Instagram experience.
As Instagram strives to get better, it's also getting bigger. The company has grown at a very rapid rate this year, from just 32 employees at the start of the year to its multiple divisions and departments today. Now, the company is hiring ad executives to supervise its new advertising efforts.
The decision to introduce ads on Instagram is somewhat surprising because Facebook has been reluctant to make any changes to the service for fear of upsetting its loyal users. Facebook CEO Mark Zuckerberg faced this same hesitation before allowing advertising on the social network in 2007. But once he realized that the potential for revenue far outweighed the risk of a backlash, all doubt was dissolved and ads started appearing. Still, Facebook is taking great care to ensure that the ads on Instagram do not disrupt the user experience.
With advertising coming to Instagram, the service can begin to generate a steady stream of revenue. And that'll make a picture worth much more than a thousand words.
Stay connected to the news and debuts in social media marketing. Contact MDG.
MDG is a full-service advertising agency and one of Florida's top creative ad agencies. With offices in Boca Raton, FL and New York, NY, MDG's core capabilities include branding, logo design, digital marketing, print advertising, mobile marketing, email marketing, media planning and buying, TV and radio, outdoor, newspaper, video marketing, Web design and development, content marketing, social media marketing, and SEO. To stay on top of the latest trends in marketing and advertising, contact MDG today at 561-338-7797. To discover how to leverage Instagram's extraordinary promotional potential for your brand, see "Dos and Don'ts of Instagram for Building a Business."