Watch Social Media's Reaction to the New Apple Watch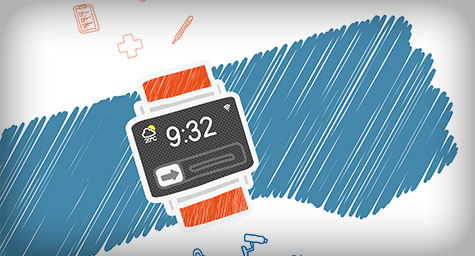 Buzz has been building over the debut of the long-awaited Apple Watch. Now that the digital device has been launched, you can be sure that social media has had plenty to say and share on the subject. The reactions have ranged from texts of excitement and pictures of awe, to funny photo mashups and wry remarks. And for the first time, the Apple website featured social media reactions to the live launch on their official live product release page. These included timely tweets, close-up crowd response photos, links to Twitter pics, and more from every moment of the launch. For a look at how social media viewed this debut, EOnline.com followed and featured the real-time response.
Lots of social media users sent tweets of anticipation and awe.
Some people crafted clever, graphic mashups that took a literal look at the Apple Watch. These ranged from the shiny red fruit wearing a shiny new watch, to people plugging numerous digital cords and wires into the fruit's flesh.
Others posted photos of their iPhones creatively attached to their wrists, whether with rubber brands, string, or the power of gravity.
Many found photos from the tech-crazy '80s and sarcastically compared watches that seemed state-of-the-art at the time to the Apple Watch of today.
And many let their words say it all, through jabs at it being just another timepiece to flip quips about its ability to connect to their many other Apple devices.
The beauty of social media is that it shows and shares what the world is thinking at any given moment. While there was a range of reactions to the Apple Watch, the one thing that's certain is that the social media world was texting, tweeting, and talking about it.
Keep up with the latest in social media. Contact MDG today at 561-338-7797 or visit www.mdgsolutions.com.
MDG is a full-service advertising agency and one of Florida's top branding firms. With offices in Boca Raton and New York City, MDG's core capabilities include branding, logo design, print advertising, digital marketing, mobile marketing, email marketing, media planning and buying, TV and radio, outdoor advertising, newspaper, video marketing, Web design and development, content marketing, mobile marketing, social media marketing, and SEO. To discover the latest trends in branding and advertising, contact MDG today at 561-338-7797.